Coke looking to have an impact on Tigers
Coke looking to have an impact on Tigers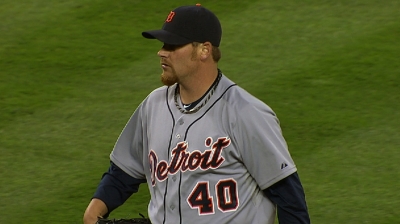 DETROIT -- Phil Coke wondered if he was done, he now admits. He wasn't worried just about the postseason but next season as well, since the irritation in his elbow wouldn't go away.
"I was pretty freaked out," Coke said on Monday afternoon, "because I didn't know what was going on. I've had issues here and there within my body where I know what's manageable and what's not manageable. It was such an unknown. I really had no idea what I had done to my arm, to have the reactions I was getting out of it."
Instead he's back in time to potentially have an impact on another postseason series for the Tigers. He did not enter Game 2 on Sunday night at Fenway Park aside from warming up in the bullpen as David Ortiz belted a grand slam off closer Joaquin Benoit.
Ortiz is 2-for-18 with four strikeouts against Coke, though Ortiz got him for a go-ahead single on June 20 at Comerica Park and sent a fly ball to deep right field against him at Fenway on Sept. 3.
Because of the amount of time Coke has missed, manager Jim Leyland opted to go with Benoit. Coke doesn't take issue with it, and won't suggest that he expected the chance.
"I expect to get the ball when it's given to me. No other time," he said. "I haven't thought of it any other way."
That said, he's hoping for an opportunity this postseason.
"Everybody knows that I want to be in the game, and I want to do everything I can to get the job done," he said. "I didn't really have a phenomenal season this year, and that's all the more reason for me to want to get in these games and show that I'm not just a one-hit wonder. I really know what I'm doing. I have something to prove."
Coke wants to prove that he can command his pitches again and retire left-handed hitters, at least improve on the .293 average he allowed from that side in the regular season. With his elbow no longer an issue, he can better finish his pitches and have a better ability to spot them.
"My arm felt really good the whole time [I was in rehab]," he said. "The rest that I received between [the series in] Minnesota and here, before leaving for [Florida during] the ALDS, was key."
Asked what has worked for him, Coke shrugged.
"Close your eyes and let it go, and pray," he said. "I don't know why I've been as successful against Ortiz as I have, but I take it very seriously, and I enjoy myself when I'm working."
Jason Beck, T.R. Sullivan and Alden Gonzalez are reporters for MLB.com. Bobby Nightengale is an associate reporter for MLB.com. This story was not subject to the approval of Major League Baseball or its clubs.