Dirks to return to lineup for Game 3
Dirks to return to lineup for Game 3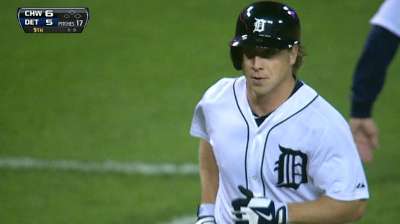 DETROIT -- Manager Jim Leyland is turning to Andy Dirks to provide an impact at the bottom of the lineup. Although Dirks has been slumping, he will start in left field for Game 3 of the American League Championship Series on Tuesday at 4 p.m. ET on FOX.
Dirks ended the regular season on a 2-for-18 skid and went 0-for-3 in his lone postseason start, in Game 1 of the AL Division Series, against Oakland. He entered Game 4 of the ALDS as a pinch-runner and scored twice, drawing a walk in his only plate appearance.
"I think I am going to play Dirks tomorrow night," Leyland said on Monday. "He's been away from it a little bit and maybe relaxed a little bit, and I'll probably play him in left field. But I won't hit him at the top of the order, probably down."
Dirks is 2-for-5 with a triple and a walk in his career against Boston's Game 3 starter, John Lackey. Dirks' return to the lineup will likely push out Don Kelly, who went 0-for-3 with a walk in Game 2 of the ALCS and is 2-for-6 lifetime against Lackey.
Meanwhile, Jhonny Peralta will get his second consecutive start at shortstop in Game 3. It will be his second start at the position with Justin Verlander on the mound after playing there in Game 5 of the ALDS.
In order to keep Peralta's bat in the lineup -- he is batting 9-for-20 with four extra-base hits and six RBIs this postseason -- the Tigers have been placing him in the infield behind their top fly-ball pitchers, Verlander and Max Scherzer. Only two ground balls and a pop fly went his way during Verlander's last start.
Jason Beck, T.R. Sullivan and Alden Gonzalez are reporters for MLB.com. Bobby Nightengale is an associate reporter for MLB.com. This story was not subject to the approval of Major League Baseball or its clubs.