Bogaerts continues to impress, but remains on bench
Bogaerts continues to impress, but remains on bench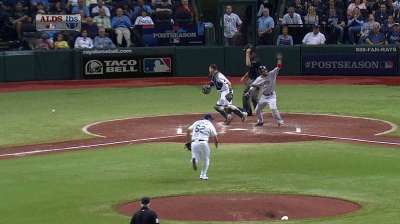 BOSTON -- The one question manager John Farrell had before the postseason was how top prospect Xander Bogaerts would handle pinch-hitting since he has barely done it in his life.
Then came the walk that led to the winning rally in Game 4 of the American League Division Series, and another key walk that led to an insurance run later in that game.
In Game 1 of the AL Championship Series, Bogaerts came on in the late innings for defense and then worked a seven-pitch at-bat with two outs in the ninth, laying off a close 2-2 splitter from Tigers closer Joaquin but ultimately popped out to short to end the game.
"And it was probably right in line with the other at-bats he's had this year," said Farrell. "There's a presence and there's a calmness to it. To me, when he laid off the split from Benoit, I felt like at that point, we've got a chance to get a base hit here. He didn't chase. He didn't show any antsiness or jumpiness in the box, and it goes back to him just being under control."
Now the question is when Bogaerts will get his first postseason start.
Will Middlebrooks, who is playing ahead of Bogaerts at third base, is 3-for-15 this October.
However, Middlebrooks came up with the two-run single that beat Tigers Game 2 starter Max Scherzer back in September. Bogaerts has never faced Scherzer.
"I have to be careful that I'm not looking at one at-bat as the swing vote," Farrell said, "but there's familiarity. Familiarity is important this time of year, in addition to defense and all those things combined."
Ian Browne is a reporter for MLB.com. Read his blog, Brownie Points, and follow him on Twitter @IanMBrowne. This story was not subject to the approval of Major League Baseball or its clubs.