Peralta gets nod at short over Iglesias
Peralta gets nod at short over Iglesias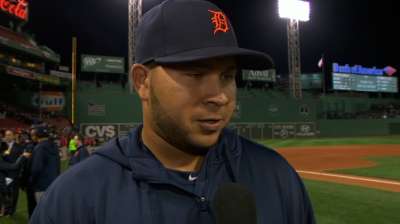 BOSTON -- Tigers manager Jim Leyland does not believe in personal catchers for pitchers, preferring that his pitchers grow comfortable working with everybody behind the plate. To some degree, though, he has two shortstops he can tailor to his starting pitcher, if he wants.
For the second time in three games, the Tigers started a pitcher who finished with one of the five-highest fly-ball ratios in the American League in ALCS Game 2 on Sunday against the Red Sox. For the second such game, Detroit started Jhonny Peralta at shortstop, his old position, and sat Jose Iglesias, his replacement.
Game 2 starter Max Scherzer doesn't have as strong of a fly-ball tendency as Justin Verlander, who went three games without a ground-ball out at first base. However, Scherzer had the higher fly-ball ratio in the regular season, second only to Oakland's A.J. Griffin among AL starters.
That said, Leyland fiercely defends Peralta's ability to play at short. His decision, he said, has to do with the hitters he can use to generate offense.
"Jhonny Peralta is no donkey," Lelyand said. "He's made the All-Star team twice for me as a shortstop in the last few years. He's a very good shortstop. We're trying to get another bat in there, and we felt it would be the best way to do it.
"This guy is a bona fide Major League shortstop. This is not a utility guy you're playing there. This is a top-notch shortstop. He doesn't have the range Iglesias has, but this is a very, very good shortstop."
Peralta's strength is in his reliability to convert the ground balls he reaches into outs. Iglesias' biggest strength is his range. Offensively, the comparison isn't between Peralta and Iglesias, but Iglesias and the left fielder Leyland can play with Peralta at shortstop. Starting Peralta at short on Sunday, Leyland said, allowed him to get another left-handed bat (left fielder Don Kelly ) into the lineup against Boston starter Clay Buchholz.
Jason Beck is a reporter for MLB.com. Read Beck's Blog and follow him on Twitter @beckjason. This story was not subject to the approval of Major League Baseball or its clubs.