'Pen writes different ending after Scherzer fans 13
'Pen writes different ending after Scherzer fans 13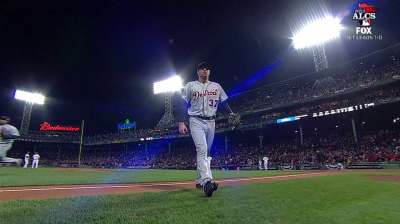 BOSTON -- The Boston strikeouts piled up again in a hurry, one futile swing-and-miss after another for most of Sunday evening, but Max Scherzer insisted he wasn't thinking of being the latest Tiger to make a run at a postseason no-hitter, this one in Game 2 of the American League Championship Series.
By the end of the night, Scherzer had barely cooled from his seven-inning gem when Torii Hunter made a run after the game-tying grand slam and the latest chapter of postseason heroics from David Ortiz.
He took a tumble. The Tigers fell.
"The one guy you don't want to beat you, he beat us," Hunter said after a four-run lead in the eighth became a 6-5, walk-off loss in the ninth.
As Hunter sat in his corner of the clubhouse, the cramped visiting quarters at Fenway Park might have never felt tighter to this team.
"We learned from it," Hunter said.
Asked what was the lesson, Hunter answered, "Not to touch the hot stove."
He wasn't talking about the offseason market, no matter how many second-guessers might point at Detroit's injury-shortened, inconsistency-hindered bullpen and wonder how it came about.
"The hot stove is David Ortiz," Hunter continued. "Don't want to touch the hot stove anymore."
The Tigers returned to Detroit having been burned after icing Red Sox hitters for the first 14 innings of the series. With Justin Verlander awaiting the Red Sox for Tuesday's Game 3 at Comerica Park (4 p.m. ET, FOX), the Tigers have a chance to take back the momentum of this series. Before that happens, however, they're going to take a day to regroup.
"We were winning the whole way, and the bottom of the eighth, we let it go," said Joaquin Benoit, whose first-pitch changeup to Ortiz ended up over the wall in right field. "So the situation is tough, but what we need to do is put it behind and start fresh."
If any two games showed how fresh starts matter, these ALCS contests were it. One night after Tigers relievers picked up where Anibal Sanchez left off and fell two outs shy of completing a no-hitter, they missed two chances at completing the eighth inning with a 5-1 lead intact.
One big swing later, they had a tie game. Four different Tigers relievers ended up charged with a run apiece, which showed how the rally was pieced together after Scherzer left with 108 pitches over seven innings of two-hit ball.
"I told them I was done," Scherzer said. "They wanted me done. They had it all lined up how they wanted to approach the eighth inning."
Jose Veras retired leadoff man Stephen Drew before Will Middlebrooks doubled into the left-field corner. With left-handed-hitting Jacoby Ellsbury, Drew Smyly entered and had a 1-2 count before losing him to a walk.
"I just let it slip," Smyly said. "Once I had 1-2, I didn't want to give him a good pitch to hit, and then 3-2, I just missed low. That's all there was to it."
Al Alburquerque used his swing-and-miss slider to strike out Shane Victorino, but he paid for back-to-back fastballs to Dustin Pedroia, whose single loaded the bases.
"The way Pedroia took [the first pitch], it looked like he might have been sitting slider," catcher Alex Avila said. "At least, that's what I thought. We threw a fastball that ran back towards him, jammed him a little bit, actually, and he just hit it right in the perfect spot."
It was during that at-bat that manager Jim Leyland had lefty Phil Coke warming up. Up came Ortiz, 2-for-18 lifetime against Coke but with a go-ahead hit off him earlier this season.
With Coke just back from being out of action for three weeks, Leyland turned to Benoit for what would be a four-out save.
"Coke hadn't pitched a big game for quite a while," Leyland said. "Benoit is our guy against the lefties, and we felt he gave us the best chance to get the out."
Said Benoit: "I wanted it down. Left it middle out, he took a good swing and hit a ball."
For 7 1/2 innings, the Tigers outplayed the Red Sox in pretty much every facet, including their third no-hit bid in four nights. By the ninth inning, they were struggling to stay in the game, from Jose Iglesias' throwing error -- an aggressive attempt at an out that instead allowed Jonny Gomes to advance to scoring position on a leadoff infield single -- to Prince Fielder's off-balance attempt to reach for a foul ball in front of the tarp down the first-base line.
"It definitely wasn't an easy play," said Fielder, who said afterwards there was no fan interference on the attempt.
A wild pitch and a Jarrod Saltalamacchia single later, there was no game left to salvage.
"I was trying to get him to hit the ball on the ground and keep the runner on third from scoring," said Rick Porcello, the fifth starter during the regular season who became the game's fifth and final reliever when he began the ninth. "I threw the best pitch that I felt to keep the ball on the ground, and he found a hole."
Jason Beck is a reporter for MLB.com. Read Beck's Blog and follow him on Twitter @beckjason. This story was not subject to the approval of Major League Baseball or its clubs.