Alburquerque utilizing fastball as counter to slider
Alburquerque utilizing fastball as counter to slider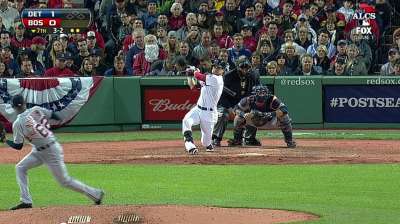 BOSTON -- Considering how badly Red Sox hitters looked swinging against Anibal Sanchez in Game 1 of the American League Championship Series on Saturday night, it made sense that Al Alburquerque and his swing-and-miss slider followed Sanchez with a perfect seventh inning. For a change, however, he didn't fire a barrage of sliders.
In fact, Alburquerque threw half sliders and half fastballs. The latter is a pitch that had all but disappeared from his arsenal the last few weeks as he continued to get good results from his sliders, but a pitch Tigers coaches had been encouraging him to throw more often for a while.
Alburquerque wasn't pitching to his strength so much as he was pitching against the scouting report.
"Everybody in the league knows he is a slider guy," manager Jim Leyland said. "It's probably a bit of a surprise last night that he used that [fastball] a little bit more than a slider."
The bigger surprise was that Alburquerque threw it for strikes, five of them out of the six fastballs he threw. The Red Sox, playing to the scouting report, didn't swing at any.
That's a stark contrast to the regular season, when he threw just 51 percent of his fastballs in the strike zone, according to STATS.
Jason Beck is a reporter for MLB.com. Read Beck's Blog and follow him on Twitter @beckjason. This story was not subject to the approval of Major League Baseball or its clubs.