Oct. 12 Jim Leyland postgame interview
Oct. 12 Jim Leyland postgame interview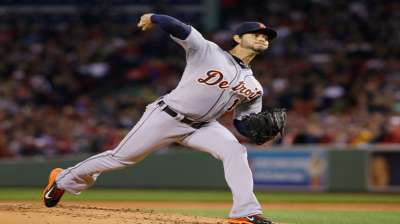 Q. Can you summarize what you saw from Anibal tonight and the sixth inning after he got out of that.
JIM LEYLAND: The pitch came up a little high early, and a little careful early. But he got rolling pretty good and made some good pitches and gave us all we needed. And made a great pitch on Drew to get out of that inning. Sitting there with Gomes, he being a lefty there, sitting over there with Gomes, I assume we wanted to stay away from that.
Q. I'm sure you're happy enough to get out with a win, but did you get caught up in the no‑hitter?
JIM LEYLAND: No, not really. No, particularly in a place like this, because you almost feel like you're behind in this ballpark with one run. With the Monster, although the ball wasn't really carrying tonight, you never feel comfortable.
I wasn't worried about a no‑hitter. It would have been nice, but there would have been several guys involved. But it worked out fine for us.
Q. How much were you aching over the fact that those early opportunities didn't go anywhere and could you analyze the situation when Peralta led off with a double?
JIM LEYLAND: We could have done a little better with opportunities. We have to do a little bit better. But what you're seeing is a lot of good pitching. There's two playoff games today, both 1‑0 scores. That tells you the quality of pitching in the postseason. We have to do better with our opportunities, but on this one we were able to hold on.
Q. You guys have had a high strikeout pitching staff all year long. How valuable is that ability that you guys have, not to be effective but to miss bats as you do?
JIM LEYLAND: It's a Catch‑22, it's not so valuable because you don't get a lot of quick outs, so pitch count goes up. But when you get in a jam they have the capability of striking somebody out. It works both ways. It works against you a little bit, because their pitch counts get up so high, strikeout pitches get their pitch count up. And it works for you when we get in a situation like we did with Max Scherzer. Like I say, it's kind of a Catch‑22, kind of bittersweet.
Q. When you went with Santiago at third base and put in Kelly in left, was that just the commitment that you're going to have to win this game 1‑0, and just go for defense?
JIM LEYLAND: I wasn't comfortable doing that, particularly in this ballpark with a 1‑0 lead. We know we're handicapped a little bit, because of our situation. I think the biggest key in that situation was the two guys that they had coming up to lead off that inning were Victorino and Pedroia. Both are excellent baseball players, both smart. Victorino could have dropped the bunt down on Miggy. Pedroia could have dropped a bunt on Miggy. We felt like that was the best way to go.
Q. Can you talk about the bullpen, a couple of tricky at‑bats?
JIM LEYLAND: The entire bullpen did an absolutely fantastic job. Carp was sharp. Smyly got one huge out, Big Papi, who was 3 for 4 off him in the past. I felt like that was the move he had to make and Benoit has been consistently good for the most part of the year. Prior to going into the closing, though, as well as being in the closing hole.
Q. Quintin Berry [inaudible]?
JIM LEYLAND: That's a good question, that's why we sent Jonesey out there. We sent Jonesey out to say, look, don't get distracted, don't let it get to you. Do the best you can to hold him but make sure you're concentrating on the hitter. You don't want to get crazy and worry so much about the runner, and somebody hits it out of the ballpark. Jonesey just reminded him, look, it's not the worst thing in the world if he ends up stealing a base. There was a shot maybe to pitch out, but when the count went 1‑0, we couldn't do that, we didn't want to put Benoit in the situation where he pitched to 2‑0.
Q. Jhonny Peralta has had a big impact. Was it a no‑brainer to start him?
JIM LEYLAND: He's got six RBIs in just a few games in the playoffs. Offensively he's done exactly what we hoped he'd do. He did okay in the left field, had the one ball and caught it.
It's like I said, as a manager, if you're not willing to give up something to get something, then you shouldn't play them. But I'm willing to do that. And if something happened bad in the outfield, you take your criticism and you take it like a man. But the fact of the matter is you've got to give up something to get something and that's what we're doing when we play him at left field, not when we play him at shortstop.
Q. From a pure pitching standpoint the stuff that Sanchez had, how do you compare what he was throwing today to what he had in the 17‑strikeout game?
JIM LEYLAND: His stuff is terrific. His stuff was still good when we faced Drew. His stuff is good. He threw a pitch before the strikeout 95 miles an hour. So we wasn't worried so much about his stuff. All of a sudden he got out of sync with his control. That was such a long time ago, I know that that particular night, that team that we played that particular night swung at a lot of bad pitches. This team is not going to do that.