Red Sox narrowly avoid being no-hit, drop Game 1
Red Sox narrowly avoid being no-hit, drop Game 1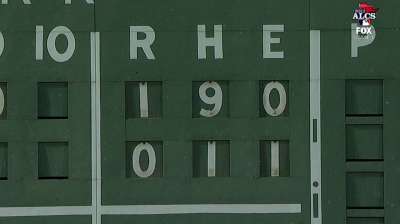 BOSTON -- The Red Sox went from nearly being no-hit in Game 1 of the American League Championship Series to needing just one big hit to pull off what could have been a memorable comeback.
But there was no magic at Fenway Park on Saturday night -- just the frustration of a 1-0 loss to the Tigers that has Boston trailing in a postseason series for the first time this October.
Daniel Nava prevented the Sox from being on the wrong side of history when he lined a single up the middle with one out in the bottom of the ninth.
"I wasn't thinking anything about the no-hitter at that point," said Nava. "It was still a 1-0 game. We had been battling all night and we hadn't gotten anything to fall. Fortunately, I got that one to fall."
With two outs, pinch-runner Quintin Berry stole second. Top prospect Xander Bogaerts could have tied the game with a single against Tigers closer Joaquin Benoit.
Instead, he popped to short on a 3-2 pitch to end a memorable contest.
"Good at-bat," said Bogaerts. "I laid off some tough pitches that he threw me, some good pitches. He had a slider, but I think it was more like a cutter because it cut too fast. Good game, tough loss, but we'll bounce back tomorrow."
To salvage a split in these first two home games, the Red Sox will have to go through Tigers ace Max Scherzer, who is the favorite to win the AL Cy Young Award. Boston will send Clay Buchholz to the mound, and he has pitched like an ace during his injury-shortened season. Game 2 is Sunday at 8 p.m. ET on FOX.
"I think we'll be ready to go tomorrow night," said manager John Farrell. "We have the ability to put tonight behind us and we'll be ready to go."
The Red Sox, perhaps the best lineup in the AL this season, were rendered punchless in this one by Anibal Sanchez (six innings, 12 K's, six walks) and Detroit's bullpen. Boston struck out 17 times, tying a postseason record set by the 1968 Tigers and also tied by the '98 Astros.
"We just didn't get any hits, man. That was it," said second baseman Dustin Pedroia. "We had opportunities. He made pitches when he needed to. That was it."
Sanchez, a former Red Sox prospect, was the star of the game. The right-hander wasn't able to see if he could keep his no-hit bid going thanks to his 116 pitches.
"I give him credit," said Red Sox right fielder Shane Victorino. "He kept us off-balance all night long. It's just one of those things. It's part of the game. You just chalk this one up and get ready to go tomorrow."
The Tigers nearly padded their lead in the top of the ninth, putting runners at second and third with one out against Koji Uehara. But after Don Kelly struck out, Sox shortstop Stephen Drew ranged into center field and made a tremendous over-the-shoulder catch on a Prince Fielder popup.
"I got a good jump on it," Drew said. "That was key for me. I think, looking back, I heard either Nava or [Jacoby] Ellsbury. I didn't know. In my mind, I thought I was going to get plundered. In my mind, it was, 'Well here we go. It is what it is. Can't let this ball fall.' Looking back, after I made the catch, looking at the video, there was nobody really around. It still kept us in the game and gave us a chance."
Nava's single prevented the Sox from being no-hit for the first time since Chris Bosio did the trick at Seattle's Kingdome on April 22, 1993.
The last time a no-hitter was broken up in the ninth inning of a postseason game was when the Dodgers did it against the Yankees in the 1947 World Series. Brooklyn actually came back to win that game, 3-2, despite having just one hit in the contest.
The Tigers had the first successful rally by either team, and it didn't come until the top of the sixth. Miguel Cabrera got things started with a one-out walk against Jon Lester. Fielder was hit by a pitch. When Victor Martinez rolled one to short, the Sox hoped to get an inning-ending double play.
But the slow-footed DH narrowly beat Pedroia's throw to first, keeping the inning alive.
That became big when Jhonny Peralta looped in a single to left, scoring Cabrera.
"That's playoff baseball," said David Ross. "Good defense, well pitched, and they got the big hit."
By the bottom of the seventh, the Red Sox were more concerned about finding some way to get a baserunner than they were about being no-hit.
Ellsbury thought he walked with two outs on a 3-1 pitch that appeared to be low, but home-plate umpire Joe West called it a strike. Ellsbury wound up striking out on the next pitch, riling up the Fenway faithful.
Lester deserved a better fate, scattering six hits and a run over 6 1/3 innings. The southpaw walked one and struck out four, but he took the tough-luck loss.
"He was really good," said Ross. "Scattered some hits. That's a real dangerous team, so he did a real good job of making them hit his pitch."
It was quite a performance by Sanchez, who led the AL with a 2.57 ERA during the regular season.
The Sox loaded the bases with walks in the bottom of the sixth, and Tigers manager Jim Leyland stuck with Sanchez. He was rewarded when the righty struck out Drew to escape. As Sanchez walked off the mound following six innings of no-hit ball, he stopped for a moment and gave a wild fist pump. His night was complete.
"Yeah, I let him off the hook," said Drew. "I had two pitches I could have done something with. He made the last pitch to get me. He threw the ball well tonight. That's the best he's probably thrown all year. It's frustrating. Bases loaded right there, looking back over the season, I've been really good with two outs. I wasn't able to come up with a hit."
Unfortunately for the Red Sox, that was the theme of the night.
However, they are determined not to let it carry over.
"That's just what we've done all year," said Ross. "I don't see why we would change anything. We're going to come out and get a plan for the guy on the mound tomorrow and try to execute that plan and hopefully go out and get another pitching performance like we got tonight."
Ian Browne is a reporter for MLB.com. Read his blog, Brownie Points, and follow him on Twitter @IanMBrowne. This story was not subject to the approval of Major League Baseball or its clubs.