Ross gets nod behind plate in Game 1 of ALCS
Ross gets nod behind plate in Game 1 of ALCS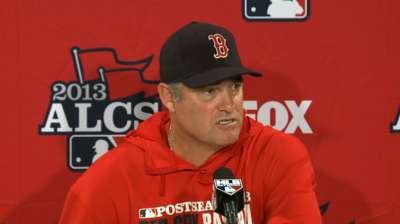 BOSTON -- The Red Sox have so much respect for David Ross that it's hard for them to classify him as a backup catcher, even if that is technically what his role is.
When it came time for manager John Farrell to put together his lineup for Game 1 of the American League Championship Series, Ross was the choice behind the plate instead of Jarrod Saltalamacchia.
Expect Saltalamacchia to return for Game 2 (Sunday at 8 p.m. ET on FOX), and to probably play the majority of games in this series.
But for Saturday's matchup, Farrell thought back to how brilliantly Ross worked with Game 1 starter Jon Lester on Sept. 3 in beating the Tigers, 2-1.
"That was definitely factored in," said Farrell. "There's some familiarity with [Tigers starter Anibal] Sanchez, even though Sanchez is tougher on righties. And the depth of our roster and the depth of our players has been a main contributor to our success this year, and we'll look to take advantage of that the best we can. The game in early September with Jon and David pairing up, that was one of the primary reasons."
For Ross, just being able to play at this time of year is pure joy, after the doubt he experienced when he was sidelined with a second concussion between June 18-Aug. 19. Ross spent a lot of that time at his home in Tallahassee, Fla.
"There were times I was sitting at home thinking I didn't know if I was ever going to play again," Ross said. "When you think about Mike Matheny and some of the guys that have had concussions in the past that have ended guy's careers -- David Ortiz told me about Corey Koskie because they are good buddies. That stuff -- hearing that and then coming through that and realizing there is light at the end of the tunnel -- has been nice, and this is just icing on the cake, it's a lot of fun."
Ian Browne is a reporter for MLB.com. Read his blog, Brownie Points, and follow him on Twitter @IanMBrowne. Jason Mastrodonato is an associate reporter for MLB.com. This story was not subject to the approval of Major League Baseball or its clubs.