Magic has great respect for Cards' organization
Magic has great respect for Cards' organization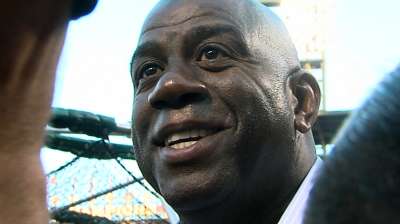 ST. LOUIS -- As Dodgers part owner Magic Johnson came to learn the ins and outs of running a baseball team, he gained a keen appreciation for his National League Championship Series opponent. Earning seven playoff berths and winning three pennants and two World Series titles over the past decade, all while maintaining a strong farm system, has earned the Cardinals a reputation as one of the game's premier franchises.
"I mean, this organization is unbelievable," Johnson said prior to Game 1 at Busch Stadium. "Hats off to the ownership, to the players and the city that supports them. If we could model our organization [after someone], it would be them with the consistency that they've had. They've won so many years in a row -- losing players, [Albert] Pujols, and then still getting back here is truly amazing. And the fans all dress up in red. It's outstanding what they've built here. We want to build the same thing back in L.A."
Johnson, who also traveled to Atlanta to watch the Dodgers in the NL Division Series, said the emotions of October outweigh anything he felt playing postseason NBA games for the Lakers.
"This is worse," Johnson said. "I can't stand it. I'm nervous, I'm crazy, and I've got to sit in the stands and be more nervous and crazy."
Ken Gurnick is a reporter for MLB.com. Anthony DiComo is a reporter for MLB.com. Follow him on Twitter @AnthonyDicomo. Manny Randhawa is an associate reporter for MLB.com. This story was not subject to the approval of Major League Baseball or its clubs.