Red Sox working on plan of attack for Tigers sluggers
Red Sox working on plan of attack for Tigers sluggers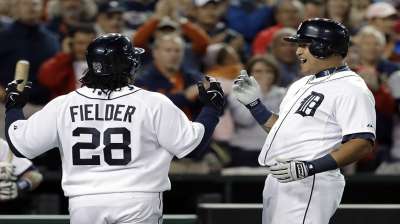 BOSTON -- The Red Sox handed out just 10 intentional walks during the regular season, the fewest in the Major Leagues.
Manager John Farrell doesn't plan on changing his policy any time soon, despite the thunderous bats in the middle of the Tigers' order.
Pitching around Miguel Cabrera, Prince Fielder and Victor Martinez isn't something the Red Sox intend to do. Actually, it's the exact opposite.
"Miguel Cabrera is my pick for best hitter in baseball," said reliever Ryan Dempster. "You have to be aggressive -- not just throwing the ball down the middle, but you better put the ball in the strike zone. If you're going to try to pitch behind in the count to a guy like that, you're not going to find yourself successful very long."
Because of his ability to adapt quickly and understand pitching patterns, Cabrera poses a threat beyond his 44 homers and .348 batting average. The Red Sox plan to attack him with a different strategy with each at-bat.
"I think anyone's mentality has got to be, 'If you execute pitches and stick to your strength, you can be successful,'" said reliever Craig Breslow. "I think anyone who would take the approach of being fearful of making a mistake or being worried about what Cabrera and Fielder are going to do [are] probably handicapping themselves."
Cabrera hit .421 with a .522 on-base percentage, two doubles and one home run in five games against the Red Sox this season. He has a .526 lifetime average over 24 plate appearances against Game 1 starter Jon Lester and a .333 average off Game 3 starter John Lackey. Where the Red Sox might have the advantage is in late-game situations, when they can use Breslow (Cabrera is 1-for-5 off him), or even Dempster (1-for-4) and Felix Doubront (1-for-6).
It's worth noting that Cabrera is 2-for-4 with two home runs off closer Koji Uehara.
"Somebody like him, as good as he is, you have to try to let him get himself out rather than nibble, because he'll take pitches and walk," said Clay Buchholz. "That's why he is who he is. We just have to find a way to work around him."
Fielder hit .250 with one double and a homer in seven games against the Red Sox this year. Martinez hit just .185 against the Sox, but he's been a hitting machine of late, with a .361 average over his last 66 games.
"You game-plan carefully," Farrell said. " And I wouldn't limit it to 3 and 4 [in the Tigers' order]. Because it's 3, 4, 5 the way Victor is swinging the bat.
Ian Browne and Jason Mastrodonato are reporters for MLB.com. This story was not subject to the approval of Major League Baseball or its clubs.