Position breakdown: Tiger arms face tough Boston bats
Position breakdown: Tiger arms face tough Boston bats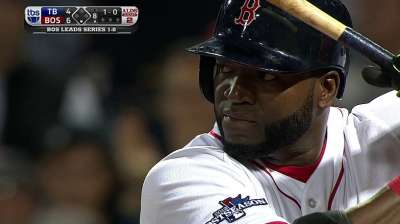 BOSTON -- The Red Sox have the home field, the rest, the bench, the beards and the Japanese closer nobody -- OK, except maybe Jose Lobaton -- can seem to figure out. The Tigers have the best hitter in baseball -- albeit a hobbled one -- and a starting rotation that can render any other advantage meaningless.
A highly-anticipated American League Championship Series kicks off Saturday night from Fenway Park at 8 p.m. ET on FOX. It's a matchup featuring two storied franchises, the team that scored more runs than anybody in baseball against the team with the best starting rotation in the league, but there's so much more than that.
Below is a position-by-position breakdown of how the Red Sox and Tigers match up, with input from those who cover the teams on a daily basis.
CATCHER
Jarrod Saltalamacchia took another step forward in 2013, posting a .273/.338/.466 slash line and throwing out 21 percent of would-be basestealers as his Wins Above Replacement more than doubled from a year ago, from 1.4 to 2.9. Alex Avila scorched in September, batting .343 while starting 20 games behind the plate, but batted only .227/.317/.376 in the regular season and threw out 17 percent of would-be basestealers. Saltalamacchia drove in three in Boston's AL Division Series against the Rays, while Avila hit .133 in the Tigers' five-game set against Oakland.
ADVANTAGE: Red Sox
FIRST BASE
The Tigers need Prince Fielder to step up in the cleanup spot to protect an ailing Miguel Cabrera. Fielder hit .278 with a .350 on-base percentage in the ALDS, but didn't register an extra-base hit and missed a lot of the fastballs he normally drives. If Fielder can find the stroke he displayed in September (.337/.396/.537), the Tigers will be tough to beat. Mike Napoli also finished the season on a high note (.333/.494/.733 in September), but is 2-for-13 in the playoffs and isn't the impact bat Fielder is.
ADVANTAGE: Tigers
SECOND BASE
The Tigers received steady production this season out of Omar Infante, who batted .318 with a .345 on-base percentage and contributed solid defense at second base. But Dustin Pedroia makes the Red Sox go from the No. 3 spot. Pedroia posted a .301/.372/.415 slash line in 2013, making his fourth All-Star team and contributing a 6.5 Wins Above Replacement score, per Baseball-Reference.com. And he's no stranger to this moment.
ADVANTAGE: Red Sox
THIRD BASE
This series may very well hinge on the health of baseball's greatest hitter. It was clear during the ALDS that Cabrera was just not right. He hit a two-run homer in Game 5, but for the most part, the reigning AL Most Valuable Player -- an award he'll probably capture again in November -- hasn't been himself. His groin is sore, his abdominals ache, and it's been hard for him to get much strength in his lower body to drive the ball. But even an injured Cabrera is among the most dangerous hitters on the planet. Sorry, Will Middlebrooks.
ADVANTAGE: Tigers
SHORTSTOP
Jim Leyland surprised everyone by starting Jhonny Peralta at shortstop for the decisive Game 5, and the 31-year-old veteran responded with a couple of hits to finish the series with a .417 batting average. Jose Iglesias' game-changing defense nonetheless figures to get him the majority of the playing time moving forward, but it's Stephen Drew's impact bat that gives the Red Sox a slight edge at this position. In the second half, the lefty-hitting Drew batted .320/.417/.578 against righties, while Iglesias' bat went cold upon moving to Detroit in late July.
ADVANTAGE: Red Sox
LEFT FIELD
It's essentially Boston's platoon of Daniel Nava and Jonny Gomes versus the Tigers' take with Peralta and Don Kelly. Nava, a switch-hitter, batted .322/.411/.484 in 339 plate appearances against righties. The right-handed-slugging Gomes had pretty even splits and finished the year with a .247 batting average and 13 homers. For the Tigers, the left-handed-hitting Kelly figures to start against righties. But the right-handed-hitting Peralta is swinging a hot bat since returning from a suspension and will get in the lineup somehow. If he keeps swinging like that while handling a tiny left field in Boston, it changes everything.
ADVANTAGE: Tigers
CENTER FIELD
Given a relatively healthy year, Jacoby Ellsbury proved once again that he is -- depending on what position you put Mike Trout -- the best center fielder in the AL. He posted a .298/.355/.426 slash line and stole a Major League-leading 52 bases during the regular season, then batted .500 (9-for-18) against the Rays in the ALDS. His counterpart, the 26-year-old Austin Jackson, went 2-for-20 with 13 strikeouts against the A's and may force himself out of the leadoff spot if he keeps struggling.
ADVANTAGE: Red Sox
RIGHT FIELD
Two of baseball's best offseason acquisitions make this matchup. Torii Hunter (signed to a two-year, $26 million deal) and Shane Victorino (three years, $39 million) fit in perfectly at their respective No. 2 spots, have provided an important clubhouse dynamic to teams with perennially high expectations and are great in moments like these. Victorino is the hot hand, though, batting .429 in the ALDS, while Hunter hit only .158, and can have a bigger impact on the basepaths.
ADVANTAGE: Red Sox
DESIGNATED HITTER
David Ortiz feels like he's 20, and who can argue? He's coming off a season in which he batted .309 with 30 homers and 103 RBIs, and he was a force against the Rays, homering twice off lefty David Price while batting .385 with five walks and only two strikeouts in the four-game series. Don't sleep on Victor Martinez from the No. 5 spot, though. He's an AL Comeback Player of the Year candidate after batting .301/.355/.430 coming off knee surgery, and he just went 9-for-20 in the ALDS.
ADVANTAGE: Red Sox
BENCH
Depending on who starts, the Tigers can have either the left-handed bat of Kelly or Andy Dirks, the right-handed bat of Peralta, or the speed and defense of Iglesias available off the bench, in addition to slap-hitting infielder Ramon Santiago and backup catcher Brayan Pena. But the Red Sox's bench is as deep as they come, with the power bat of Gomes -- or that of Nava, if the opposing starter is left-handed -- plus the speedy Quintin Berry, walk machine Xander Bogaerts and the lefty-hitting Mike Carp. David Ross is also a very solid backup catcher.
ADVANTAGE: Red Sox
ROTATION
In one rotation, the Tigers have the AL's ERA leader in Anibal Sanchez, the AL Cy Young Award favorite in Max Scherzer, and as evidenced by his last two starts, probably the best big-game pitcher in baseball: Justin Verlander. The Red Sox were able to line up their rotation for the ALCS and have a very solid foursome in Jon Lester, Clay Buchholz, John Lackey and Jake Peavy. But the Tigers had statistically the best rotation in the AL this season, and Scherzer and Verlander can each pitch twice in the ALCS if needed.
ADVANTAGE: Tigers
BULLPEN
Neither team was all that spectacular in this department this season. The Red Sox were third-to-last in the Majors in inherited-runners-scoring percentage and ranked 20th in relievers' WHIP. The Tigers were in the middle of the pack in allowing inherited runners to score and their relievers were 23rd in the Majors in WHIP. But the Red Sox's late-inning duo of Craig Breslow and Junichi Tazawa holds a slight edge over Drew Smyly and Jose Veras.
ADVANTAGE: Red Sox
CLOSER
The best closer in the AL this season wasn't Mariano Rivera. It was Koji Uehara, the 38-year-old Japanese right-hander who can barely crack 90 mph and still makes hitters look flat-out silly. Uehara posted cartoon numbers in 2013, with a 1.09 ERA, a 0.57 WHIP and an 11.22 strikeout-to-walk ratio while saving 21 games in 24 chances. The Tigers tried Jose Valverde once again before settling on Joaquin Benoit, the 36-year-old who finally solidified things in the ninth inning with a 2.01 ERA and 24 saves. But he's no Uehara. Not this year, anyway.
ADVANTAGE: Red Sox
Alden Gonzalez is a reporter for MLB.com. Read his blog, Gonzo and "The Show", and follow him on Twitter @Alden_Gonzalez. This story was not subject to the approval of Major League Baseball or its clubs.