Oct. 10 Jim Leyland postgame interview
Oct. 10 Jim Leyland postgame interview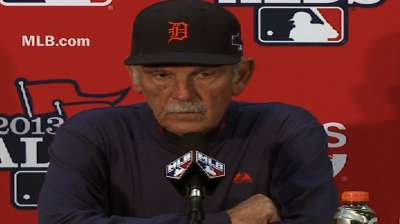 Q. You've been asked to summarize Justin Verlander so many times, Jim, over these years, and yet you were dealing with a different situation with him even a month ago. Can you explain what happened here culminated by tonight over the last thirty days?
JIM LEYLAND: He's getting downhill now. He's back in a really good rhythm. I think it was a lot to his mechanic thing that he talked about. I didn't know much about it. He's gotten mechanically back in sync, got all his pitches.
He was locked in tonight. This was a big challenge for him. He did it here last year, he's done it on several occasions for us, and he did it once again.
Q. Jim, was there a point in the eighth inning where you decided that would be his last? Did you check with him?
JIM LEYLAND: To be honest with you, we checked with him, he was really tired after the eighth, and felt like he could go back out, but I said, No, you're not going back out.
Once they tell you that they're tired, these guys are pretty good with me, to be honest with you. He felt like he could probably go out but couldn't get out of a jam, and I said, I'm not going to do that to my closer, you're done.
He was good about it. It was the right move, whether it worked or not.
Q. As he's dominating, do you allow yourself to start thinking about a perfect game, no hitter, is that in your mind?
JIM LEYLAND: You know, when we started the series we thought we had it set up right.
We knew we had two choices in Game 5, we had to spend Max in Game 4, we had to do it, so that left Justin for Game 5, which would have been an option no matter what. But Max would have pitched Game 5.
Justin rises to the occasion. I can usually tell by the look on his face and his demeanor prior to a game when he's zeroed in and locked in and he was locked in tonight.
Q. Why do you think it is that Justin Verlander, especially the last couple of years like you just characterized it, was locked in? How is it that he's so locked in against this Oakland ballclub?
JIM LEYLAND: I don't have an answer for that. I talked about that pregame. You know, it just works out that way sometimes. Sometimes a guy can really pitch well against a certain team and pitch five days later against somebody else and get knocked around. It's hard to figure out.
But when this guy has it going, he pitches well against everybody. He used the fastball a lot tonight and when you got that fastball, he's got three well‑above average Major League pitches and another one that's at least average and maybe a little bit better. When you've got four pitches above average and a couple of them really above average, you can shut down a lot of teams.
Q. How do you compare Justin Verlander's Game 5 start last year to this start tonight?
JIM LEYLAND: This was better because that one last year was a long, long time ago, and this one is pretty current. So I'll take this one, tonight (smiling).
Q. The Miguel Cabrera home run came with a top‑half body swing. You haven't been able to get those out of him for the last six weeks.
JIM LEYLAND: When you got Miguel Cabrera and Prince and Victor, they could explode at any time and Cabrera came through for us tonight. Prince swung the bat good, Victor swung the bat good, Jhonny swung the bat good. When we get these guys going, we're a dangerous club. Just like anybody else.
Oakland, my hats off to them. This Oakland team is a very tough team. I talked about this today. The Oakland team in some ways is a real tough, tough kinda young club, a little in between. Now we're going to go play a tough, tough, more veteran team, probably.
So a lot of credit goes out to this Oakland team. They're a terrific team. Once again Bob has done a fantastic job with them. We're fortunate. I don't know how it happened, but we've been able to celebrate a few times in this ballpark and it's crazy. I don't know how it happens.
Q. How worried were you or started to get worried in the ninth inning when Benoit had the two runners on base?
JIM LEYLAND: I was nervous because Seth Smith has had a good series. I thought it was a good move by Bob. He put him in the second game, and from then on, he responded well, he had a couple of big hits at our place.
It's amazing how your emotions go from down to up and up to down, whatever. But the first two outs, Coco Crisp has been terrific the whole series, when we got him out, I felt better. The second out, I felt pretty darn good, and all of the sudden two guys on with Seth Smith hitting, I wasn't very comfortable.
Q. Did you doubt yourself for a moment from removing Justin Verlander from Benoit?
JIM LEYLAND: I just explained that. If you were listening, Justin Verlander was dead tired and he told me after the eighth inning, he said, I'm dead tired, but I can go out there.
There was no way I was going to put him out there. If he got in trouble and put my reliever in after he got in trouble, I wanted my reliever to have some room to play with.
Q. Jim, have you thought about Boston and the challenges that the Red Sox present for you guys?
JIM LEYLAND: If you watch the Red Sox, they have a tough club, Pedroia, Ellsbury, Jonny Gomes, Big Papi. I'm not saying they're tougher than Oakland. I'm saying they're a more veteran team. Oakland is a younger club.
We're going to Boston and we'll see how this all plays out.
Q. Jim, would Sanchez start Game 1 in Boston Saturday night?
JIM LEYLAND: We're probably going to announce our pitching rotation tomorrow, so please be patient with us. But I can tell you, it looks like Sanchez in Game 1. I don't want to take it any further than that right now.
We have an obligation to the media tomorrow in Boston. We're not going to get there until 8:00 in the morning, but we have an obligation to meet and we will work out just a little bit to get used to the field, but not too long.
I'm sure we will be prepared to announce our rotation, but it is Sanchez in Game 1.