Deja Verlander: Athletics relive '12 heartbreak
Deja Verlander: Athletics relive '12 heartbreak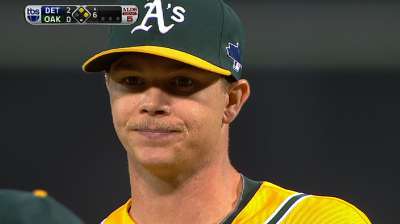 OAKLAND -- It had the makings of a great redemption story. But in the end, this Game 5 tale cast the A's in a role they've become reluctantly familiar with over the past few decades.
In fact, Thursday night's American League Division Series finale was nearly a shot-for-shot remake of last year's letdown, and that's what made it all the more mind-boggling.
That's why Brandon Moss had yet to trade the green and gold for street clothes two hours after game's end. He was supposed to be arranging flights to Boston for his parents to watch him in the next round of the playoffs, not getting ready to pack up his family for another trek home to Georgia for the offseason following a heartbreaking 3-0 loss to the Tigers.
"I know we're better than a Division Series team," he said. "We are."
That's why, in another corner of a deflated clubhouse, Grant Balfour was pacing. "I want more. I want more. I wanted more last year. I want more," he said. The impending free agent may not get it with the A's, who were robbed of more by the same pitcher who stole it from them last year.
Detroit's Justin Verlander got more. He was every bit as dominant as he was while turning in a shutout during last year's Game 5, and then some. And the A's, attempting to extinguish their painful past, instead found themselves entrenched deeper in postseason misery.
Their second straight AL West championship season was over.
"It's frustrating," said catcher Stephen Vogt. "Everything about it is frustrating. We're a better team than that. We deserve better, and we just didn't get it done. Obviously it's not fun right now. We had our moments the last couple of games to get it done, and we didn't."
Two days after one too many miscues prevented them from advancing past the ALDS for the first time in seven years, the A's watched the Tigers put a bow on it.
Oakland moved to 1-12 in potential clinch games since 2000, dropping six of seven playoff series in that time, and six consecutive ALDS Game 5s. The Tigers moved on -- to Boston, where they'll christen the AL Championship Series against the Red Sox on Saturday.
The A's believed this to be a better team than the one they fielded against Verlander exactly 364 days ago. But it didn't matter.
Last year, Detroit's right-hander fanned 11 and allowed just four hits in a complete-game victory that ended Oakland's season. On this night, he struck out 10 and didn't offer up a hit until Yoenis Cespedes' two-out single in the seventh inning. Verlander allowed only one more hit while running his scoreless streak against the A's in postseason play to 30 innings spanning four starts. In those, he's combined for 43 strikeouts.
"When you're facing Verlander twice, [Max] Scherzer once, [Anibal] Sanchez once, [Doug] Fister, that's a crap shoot," said Jed Lowrie. "If you get em on an off night, you can put some runs against them, but those guys are dominating pitchers. I think their pitching just really kept us at bay. We fought hard against them, but in the end we just didn't score enough to win the series."
The A's averaged more than six runs per game in their final month of regular-season play but plated one or fewer runs three times this series. Lowrie hit just .150. Josh Donaldson batted .143. Moss finished at .111 with 13 strikeouts, which is a new A's record in a postseason series. Oakland racked up 57 in all to set an LDS record.
"We could've done a better job offensively," said Moss. "I think all of us would say that. I think a lot of guys would look back and say we could've done a better job, and I know I'm one of them. When you're in the moment and there's no score, and you're a guy like myself, you try to put it in play. But I've never been good at that, going up to try to put it in play. You're fighting with that back and forth, and I did a lot of that. I actually got some pitches I thought I could hit. I swung under them. My timing was right, but Verlander just had that life. That's frustrating."
Then there was Sonny Gray, who struggled to produce the same type of performance that awoke a nation just five days prior. Still, the rookie pitched admirably, despite not having his best stuff, and even after suffering a break to his left thumb on a Prince Fielder comebacker in the fifth inning.
The 23-year-old, elected to start the elimination game over proven veteran Bartolo Colon, appeared amped out of the gates, hitting 96 mph three times in a 14-pitch first inning. But the walk he issued to Fielder to start the second was the first of four -- one intentional -- in five-plus innings.
His fastball command lacking and his curveball ineffective, Gray was hit hard in the fourth, allowing four hits in the 33-pitch inning, including a two-run homer to Miguel Cabrera, who had just two extra-base hits in his previous 98 at-bats.
The A's stuck with Gray two batters into the sixth inning, when righty reliever Dan Otero entered with runners on first and second. Two consecutive forceouts later, the Tigers had their third run, which proved plenty for a rolling Verlander.
His final hit allowed was a two-out single to Josh Reddick in the eighth, as the A's would go down quietly thereafter, closing the books on their ninth postseason-series loss since 1990.
"I felt like the last two days we were starting to get back on track," said Donaldson, "but I've faced Verlander a lot of times in my career, and this is the best I've seen him."
"It's hard to watch tonight," said Balfour. "Just when you're seeing the same guy who did it to you last year, it's hard. It's tough, in all honesty. He's going out there and I feel like the guys are probably pressing a little because we want it so bad. Just didn't come for us."
Jane Lee is a reporter for MLB.com. Read her blog, Major Lee-ague, and follow her on Twitter @JaneMLB. This story was not subject to the approval of Major League Baseball or its clubs.