Benoit open to 2014 role as Tigers' setup man
Benoit open to 2014 role as Tigers' setup man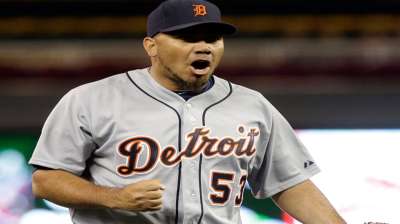 OAKLAND -- Joaquin Benoit would like to be back with the Tigers next year, whether he'd be closing or setting up again.
That was the gist of his answer to reporters during his scheduled session at the podium before Game 5 of the American League Division Series on Thursday. It potentially could have been his last day in a Tigers uniform after three years as a stalwart in Detroit's bullpen. He's a free agent at season's end, and his success closing -- even in the small sample size of just over half a season -- gives him a nice place on the market at age 36.
Benoit could pick his role, or he could pick his team. With Bruce Rondon potentially in line for closing games, Benoit could have to pick which one is more important if the Tigers offer him a new deal.
"I think whatever decision they make is going to be great," Benoit said. "If they decide to go with me as a closer, I'm happy. If they decide to give me another chance and help him, being his setup man, I would be happy to."
That doesn't necessarily make it an automatic that Benoit will be back.
"I'm not the kind of guy that likes to say I'm going to be here for the rest of my life," he said.
Benoit tried to stay out of the closer discussion when Rondon was struggling in Spring Training. That gave the impression in some circles that he didn't want to close, a notion he dismissed at midseason. He insisted he didn't want to be a distraction from Rondon trying to win the job.
Once Benoit became the closer at the end of June, he became a mentor to the just-recalled Rondon.
"From the beginning of Spring Training, Rondon was the guy who was going to be the closer," Benoit explained, "and I was happy, because he's a young kid that has a lot to offer. His lack of experience, I guess, [got] the best of him at the beginning. But the second time he got called up, he showed that he belongs in the big leagues. He has the passion of a closer."
Jason Beck is a reporter for MLB.com. Read Beck's Blog and follow him on Twitter @beckjason. This story was not subject to the approval of Major League Baseball or its clubs.