Oct. 9 Mike Matheny postgame interview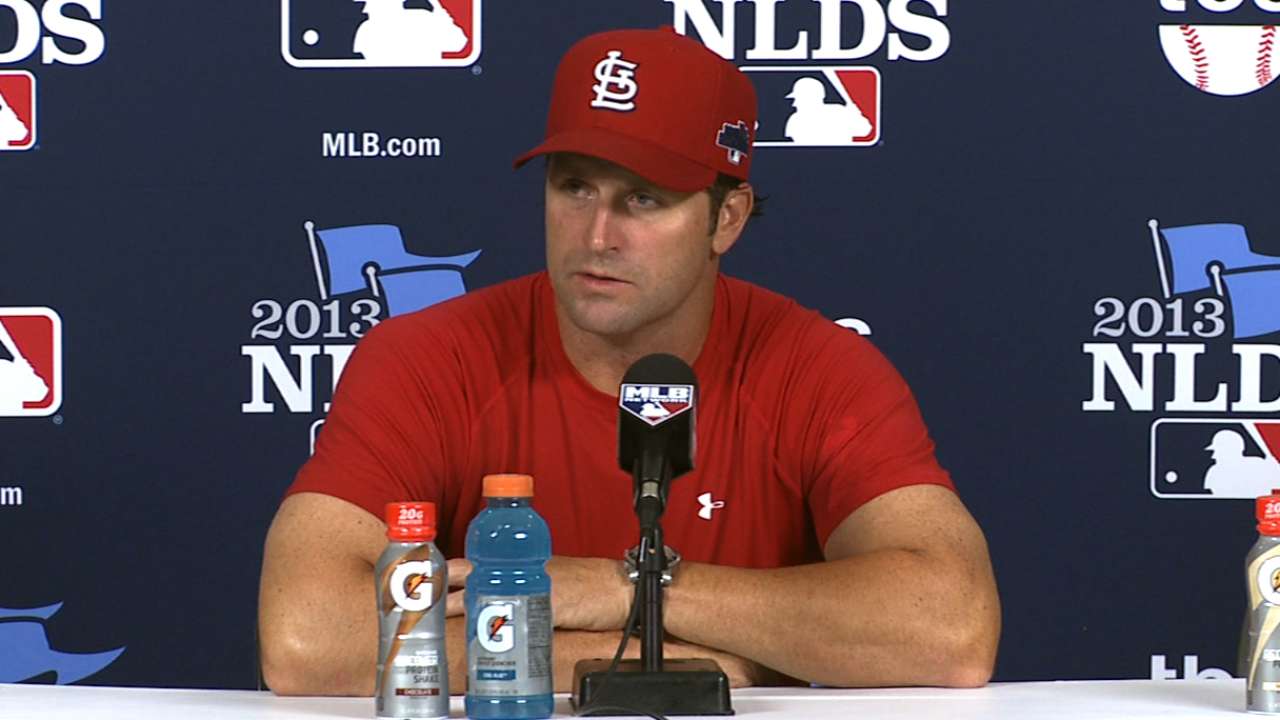 Q. Even before the results were in, how comforting is it as a manager to have somebody of Adam Wainwright's stature and ability going for you in this game?
MIKE MATHENY: Well, we'll take him on the mound any day, especially in a big situation. I love the fact that everybody kept asking him about Game 5 last year, because I knew that was just bringing even more to the table, if you could even do that.
But he's done such a great job leading our pitching staff, and he's had a tough job, he and Yadier both, with so many young guys. You've got a lot of teaching to do, but you better be able to back it up. He's done an incredible job this year on both sides, teaching and showing the guys by example how you go about your business.
Q. Mike, Adam says he didn't want to go near you late in the game because he didn't even want to have that conversation. Did you even consider? How did that work taking him out?
MIKE MATHENY: We're always considering everything, making sure we're making good decisions. I didn't want to see him come out of that game, and he wasn't coming out. He went up to that last at‑bat and there was no way he would look back and get any acknowledgment from me.
But he came back in, got dressed, and then took a sprint out to the mound. And it made everybody in the whole stadium's hair stand on end, because you could see he wanted that ball worse than anything in the world. He just means so much to this team the way he goes about his business day‑in and day‑out, and that's the guy we want on the mound. In a big situation, that's the guy we want leading this staff.
Q. David has had such an up‑and‑down year. Can you just talk about the home run he hit to put you guys ahead, and Adam really took off after that too?
MIKE MATHENY: Yeah, we needed a little breathing room. Obviously, we only had one hit there with a couple of runs. Very fortunate that David can step up in these big situations. I'm a firm believer that the confidence breeds more confidence. And David knows that he can perform on the big stage and enjoys the rewards of doing that.
But he just needs to stay the course. He's a guy that's a winning player. He's a big‑game player, but when it's on the line, he get it's done. But we're very fortunate that he's with us and able to do the things that he's done.
But I did want to say our hat's off, without a doubt, to the Pittsburgh Pirates, Clint Hurdle and that team has absolutely earned our respect and I think all the respect of baseball. How they play the game, a relentless style, a very athletic team, fast and strong, and great pitching. They've got it all. It was a very tough series, but our hat's off to them for sure.
Q. Talk about Pete Kozma's defense. He showed that off a little bit tonight.
MIKE MATHENY: Yeah, Pete's a solid defender. I don't think people give him the credit he deserves for the kind of player that he is. Unfortunately, we've had to limit some time just trying to get his bat going, and that's a defensive position. We love having him out there. Try to get him some time to get it right. He comes through today with another big RBI, and he still looks really good at the plate. But you can see the plays he's making, especially when he goes in the hole, he makes that play about as good as anybody in the league, and continues to impress us with how he handles big situations like this.
Q. Thoughts on the Dodgers matchup, and do you have an idea on the rotation plans?
MIKE MATHENY: Yeah, we've got an idea. We'll talk about that later. We certainly weren't getting too far past today. We respect the game too much to get any further past what we had in hand, and we had our hands full.
We'll be looking forward to that Dodgers series. I know they've got a strong club too. Everybody we're going to see, anybody you see from here on out this time of year, they're going to be very well‑rounded, and they've got the pitching and obviously an explosive offense. It's going to be a tough assignment for us, but we'll start preparing for that tomorrow.