Stifled behind Cole, Bucs eliminated from postseason
Stifled behind Cole, Bucs eliminated from postseason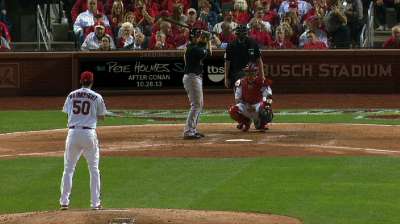 ST. LOUIS -- Coming to a fork in the postseason road, the Pirates hoped to follow Robert Frost's poetic advice and take the road less traveled. Instead, they were frosted by the Redbirds' Messrs: Ice and Freese.
With David Freese's early two-run homer off Gerrit Cole propping up cool Adam Wainwright's pitching, the Cardinals prevailed, 6-1, in Wednesday night's Game 5 of the National League Division Series, and the Pirates hit the end of the road. And the beginning of the next stage of the renaissance of Pittsburgh baseball?
That was the prevailing sentiment in the visitors' postgame clubhouse, where there were as many hugs as in the winners' on the other side of Busch Stadium. Except, the Pirates' were dry hugs, goggles not required.
"It's not the way we wanted it to end, not what you want to put in the book. Everybody can't have a happy ending," Andrew McCutchen said. "But it's one of those stepping stones, and we take it in a positive manner."
So instead of continuing on to Los Angeles and the NL Championship Series to face the Dodgers, the Bucs are bound back to Pittsburgh. There, they will rue the short term -- a walk of Jon Jay with two outs in the second preceded Freese's home run, in a series in which scoring first has invariably led to victory.
And they will revel in the long term of a 94-win season that fell one more win short of the next level.
"We came in expecting to win this game. We fell a little short," said Cole. "They played a great game, and we look forward to seeing them down the road. And best of luck to them in the next series."
These two teams played a great season series, held over for October play. The NL Central foes met 24 times. Each won 12.
"A [heck] of a battle," Cole said. "We tied, so c'mon, you can't ask for anything more than that. [It was] a lot of fun."
After falling short of becoming the youngest pitcher to win an ultimate road game since the Dodgers' Fernando Valenzuela 32 years ago, Cole conducted all his postgame interviews with a wry grin.
One almost sensed what was going through his mind: For 20 years, the Pirates had to explain why they couldn't win a lousy 82nd game and have a winning season; here they were, having to explain a loss in an ultimate postseason game to a team making its 10th playoff appearance in 14 years.
"Hey, it's a good turnaround," Cole said. "I think we all would've wanted more, but we're sticking to the theme of continuing to improve, and we'll show up even better next year."
The ultimate night of this year belonged to Wainwright, who for good measure went the distance on his eight-hitter, issuing one walk while striking out six. Three of the hits off Wainwright were consecutive infield singles with two outs in the seventh, as destiny attempted to confirm its partisanship with the Bucs. With two outs, two pairs of older legs kicked open the door of opportunity, as Justin Morneau and Marlon Byrd barely legged out infield hits.
The supernatural aura appeared to grow around the Pirates as Pedro Alvarez next pulled a full-count pitch for a routine inning-ending grounder to first baseman Matt Adams -- except, before it reached his glove, the ball kissed off the bag and over his head for another scratch single that delivered Morneau from second base to cut into St. Louis' three-run lead and make it 3-1.
"Guess we caught a break with that hit by Pedro," Neil Walker said, "but it only led to one run."
Russell Martin's groundout to short broke the spell.
"We thought we had something going," Byrd said, "but Wainwright figured out a way to get out of it. Tip the cap ... he pitched two great games [following up his Game 1, 9-1 victory] against us. There's a reason he leads that staff."
"They brought me over here for one thing -- to get to the World Series," added Byrd, who arrived at the end of August in a deal with the Mets. "It's tough to fall short."
The Bucs did not learn -- or at least didn't apply -- lessons from Wainwright's Game 1 gem. Clint Barmes, who had one of the outfield hits off the righty, saw many of his teammates play into Wainwright's hands.
"When he's attacking the zone," Barmes said, "you can't go up there really trying to work a count. Try to work a count and you'll be sitting 0-2, trying to hit his chase pitches. [It] makes it tough to try to get on base that way. We also hit a lot of balls at guys today."
Twice -- Alvarez in the second inning, Starling Marte in the eighth -- the Pirates hit rockets that second baseman Matt Carpenter snared and turned into double plays on anxious baserunners leading off first base.
Cole, as it turned out, had only a relatively brief role in this game, departing for a pinch-hitter in the sixth as manager Clint Hurdle tried to take advantage of only the Bucs' second hit of the game. In his five innings, Cole gave up three hits and one walk while striking out five. He called his early departure "pretty tough, I'm not gonna lie."
"I started to hit a groove there," Cole added. "But that's what happens in postseason baseball. It takes one pitch to make or break your season."
Cole's breaking point came after Jay drew the two-out walk on a full count in the second. Cole delivered a second consecutive curveball to Freese, who pulled it into the Pirates' bullpen for a 2-0 lead.
Cole's offspeed pitches have been unhittable for a month, mixed in with his 97-mph fastballs. Seeing two in a row, however, made it easier for Freese to time one and turn it into his seventh postseason jack. By various sabermetrics accounts, this was only the second Cole offspeed pitch hit safely since the beginning of September.
The next time they met, Cole again had two strikes on Freese, and the rookie blew 98 mph of heat by him for a called third strike, ending the fourth with runners at the corners. Cole's escape to safety from a harrowing jam that inning would have been the stuff of growing legend had it come in eventual victory.
It was rendered trivial, however. St. Louis added a sixth-inning run on Jay's RBI single off reliever Justin Wilson, and three more runs in the eighth -- on Adams' two-run homer off Mark Melancon and Pete Kozma's RBI single off Jason Grilli.
At the end of the road, the Cards picked apart all of the Bucs' season-long strengths. The Cardinals hit two homers in the finale for an NLDS total of six -- after they had five in the 19 regular-season meetings between the teams. The back end of the Pirates' bullpen was implicated in the three-run put-away eighth. The ignitors atop the lineup, Marte and Walker, added an 0-for-7 collar to their 1-for-38 NLDS.
It was all a great argument for the value of postseason experience. Next time the Bucs show up, they'll also have it.
Tom Singer is a reporter for MLB.com and writes an MLBlog Change for a Nickel. He can also be found on Twitter @Tom_Singer. This story was not subject to the approval of Major League Baseball or its clubs.