Puig praised for maturity in first playoff series
Puig praised for maturity in first playoff series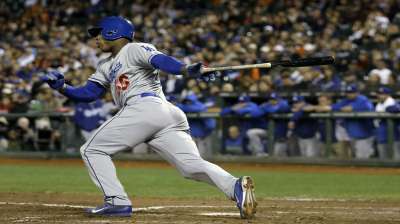 LOS ANGELES -- Yasiel Puig made an impact in the middle of the Dodgers' lineup during the National League Division Series against the Braves, but manager Don Mattingly was more impressed by the outfielder's poise in his first postseason experience.
Puig started all four games of the NLDS in right field and moved into the No. 5 spot in the batting order with Andre Ethier limited to pinch-hitting duties. The rookie finished the series 8-for-17 (.471) with two RBIs and five runs scored.
Puig played a central role in the clinching Game 4 victory, too. He doubled leading off the eighth inning and scored on Juan Uribe's go-ahead two-run homer.
But Mattingly was more impressed by Puig's decision-making than his numbers.
"I was really proud of him this last series," Mattingly said Wednesday before the club's Dodger Stadium workout. "A lot of good decisions from Yasiel this last series. He made a couple of hard turns at first where he didn't go and it was the right play. I saw him hit the cutoff man a lot. We saw patience at the plate for the most part through the series. Just really proud of him.
"I think everybody questioned -- was he going to be able to make good decisions? He may still get excited and do something that we don't want. But I felt like he showed a lot of maturity in that series."
That's a good sign for the Dodgers as they prepare for Game 1 of the NL Championship Series on Friday on TBS.
Austin Laymance is an associate reporter for MLB.com. This story was not subject to the approval of Major League Baseball or its clubs.