Maddon tabs Myers to win AL Rookie of Year Award
Maddon tabs Myers to win AL Rookie of Year Award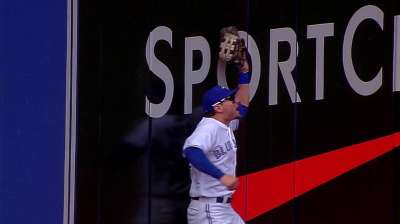 ST. PETERSBURG -- Joe Maddon was asked to give his evaluation of Wil Myers' rookie season.
"He was very impressive," Maddon said. "To come in as he did, and he made a huge difference for us when he showed up. He did struggle a little bit in the playoffs. However, don't forget what he did to get us to this particular moment."
Maddon said Myers has prodigious power.
"He hits the ball as far as anybody in baseball right now, to all fields," Maddon said. "He hits for average, too. Good baserunner and he runs well, better than I thought, too. Defensively, we've got to help him a little bit. I thought he showed signs of being at least a solid outfielder. I think, with technique, he'll develop. We'll work with him in Spring Training.
"Makeup-wise, he definitely has a big league makeup. I talked a lot about him not being overwhelmed. He should be [American League] Rookie of the Year. There's no question in my mind. ... This guy is going to be a big part of our future."
Bill Chastain is a reporter for MLB.com. This story was not subject to the approval of Major League Baseball or its clubs.