Oct. 8 John Farrell postgame interview
Oct. 8 John Farrell postgame interview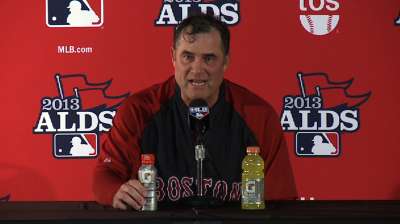 Q. You said before the game that you didn't like that Bogaerts versus McGee matchup. What changed your mind or was it the situation?
JOHN FARRELL: Well, I reserve the right to change my mind. And given some of the struggles that Stephen has had, you know, we had talked about this leading into the series and I felt like at the moment as tough as left‑handers have been on Stephen, I felt like we had to try something different. And for a young guy that's been sitting for quite a while, obviously he showed tremendous poise and almost ice in his veins and scored two runs of the three we had tonight. But in the moment we felt like we had to get something started.
Q. Can you talk about Craig tonight?
JOHN FARRELL: He's been, I don't want to say an unsung hero, but he's flown under the radar most of the year. And next to Koji, he's a very dependable reliever. But when he comes out and gets the strikeout of Loney, and he goes through the next inning with the three strikeouts, a huge performance on his part to bridge to both Junichi and Koji as we finish that out.
Q. With the opportunities you had early, and watching Joe make all the pitching changes, is there part of you wondering, I know you're patient, but are you wondering if you're going to get that run or two runs?
JOHN FARRELL: When we lined into the double play, it felt like that was ‑‑ kind of took the air out of our sails a little bit. The one thing this team has done throughout the course of this is continue to build opportunities. And even though we may come up short at times, it felt like we would still create some.
This was a very unique game. We faced nine different pitchers, and early on we had to remain patient not making wholesale changes with our lineup, not knowing who they might go to next. We break through in that 7th inning for two runs. And I can't understate how important Pedey's sacrifice fly in the 9th was to give us a breather with Koji on the mound. It was more testing our patience early on and not making wholesale changes to the lineup.
Q. Did last night's situation with Bogaerts and Drew play a role in your decision‑making process today or is it independent of that? For lack of a better way to put it, how impressed were you that this 21‑year‑old kid can wait out a 3‑2 walk with his limited experience in the postseason?
JOHN FARRELL: Last night did play into it. I'll be honest to you. If I told you it wasn't I'd be lying to you. You look at how guys are responding to certain situations. McGee is a hell of a reliever. And the way Bogie came off the bench to work out the walk. He gets a fastball thrown by him and he doesn't expand the zone. He doesn't chase. He's patient and he's very much under control emotionally inside a given game. And proved out to be a pivotal moment with his at‑bat.
Q. How important was it to finish here and not go back to Boston for a pivotal Game 5?
JOHN FARRELL: Well, I think ‑‑ we look upon every day as an important day. No one day is more important than another. If it turned out that we were going back with Jon Lester against David Price, we were extremely confident. This team loves playing at Fenway, and love the atmosphere that's created there. To maintain some momentum and fight back the way we did when not much was happening or breaks weren't coming our way, tonight was a big night for obvious reasons.
Q. 23rd time you've played this team, the Rays, a lot of close games. How relieved are you to be past them, done with them?
JOHN FARRELL: I'm assuming that the next opponent we have is going to be as tall a challenge as Tampa is. They pitch extremely well. They play a complete game. They're athletic. They play very good defense. They're well managed, obviously. You never feel like you're comfortable going up against them. We've had some success against them this year, where maybe in years past it's been a little bit different. They posed a stern challenge for us, no question.