Sarah's take: Total team effort lifts Dodgers in NLDS
Sarah's take: Total team effort lifts Dodgers in NLDS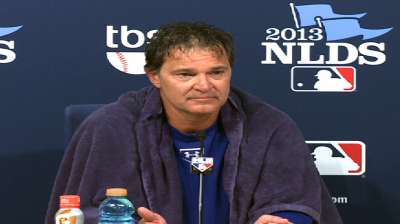 For his first two years in a Los Angeles uniform, Dodger fans used Juan Uribe as a scapegoat. However, on Monday night his eighth-inning two-run homer propelled the Dodgers to the NLCS.
By starting Clayton Kershaw on short rest, the Dodgers let everyone know that they didn't want to go back to Atlanta to play Game 5. Kershaw, pitching on three days' rest for the first time in his impressive career, didn't disappoint. Two infield errors undermined Kershaw's six-inning effort where he didn't allow an earned run.
The normally sure-handed Adrian Gonzalez botched an easy double play with a bad throw in the fourth inning, which gave the Braves a scoring opportunity. The Braves, who had the second best record in the National League, were too good to waste scoring opportunities. They could have scored more, but Kershaw wouldn't let them.
For the entire season, the Dodgers have struggled with finding effective relievers to pitch the seventh inning. Some people blame this shortcoming for Friday's loss. Monday was no exception. No matter whom Don Mattingly chooses to pitch the seventh inning, the reliever often struggles and usually allows a run. After Friday's loss, the national media delighted in criticizing Mattingly's choice and blamed him for the loss of a game that the Dodgers possibly could have won if the bullpen didn't have a meltdown.
On Monday, Mattingly chose Ronald Belisario and J.P. Howell, and both have playoff experience. Instead of allowing Atlanta to score multiple runs that possibly would have prevented the Dodgers from retaking the lead as the Braves did Friday, the duo allowed just one run.
Throughout the four games against Atlanta, the Dodgers got early leads, and this helped the Dodgers win the series. After having a miserable game on Friday when he struggled with runners in scoring position, Carl Crawford played a vital role in the series victory. On Sunday night Crawford had three hits, including a homer, and made a circus catch.
The first two times up on Monday night against soft-tossing veteran Freddy Garcia, Crawford homered twice. Although Atlanta caught the Dodgers and passed them, getting a two-run lead in the final game of the series was vital to gain the victory.
In late July when general manager Ned Colletti signed Brian Wilson, the former closer for the San Francisco Giants, no one knew what the Dodgers were getting. Wilson had Tommy John surgery the previous April and many baseball people questioned whether he could regain his velocity.
Despite having early season bullpen problems that caused the Dodgers to have 16 blown saves before the All-Star break, the Dodger bullpen appeared to have settled down even though Brandon League hasn't regained his dominance, so people wondered what Colletti wanted with a closer with a long medical history.
Wilson has proven to be brilliant for the Dodgers. Except for one outing in Cincinnati, Wilson has held onto every lead. He has made the eighth inning his own. On Monday night, as most Dodger pitchers did, Wilson exploited an Atlanta weakness by striking out two.
Kenley Jansen began the season as a setup man where he sometimes struggled. As the season went into May, he discovered the power of his cutter when he used it in conjunction with his fastball. By the middle of June, Mattingly replaced League with Jansen. While the Dodgers led all of baseball in blown saves with 16 before the All-Star break, they have had only three since then. On Monday night with just a one-run lead, Jansen with his commanding presence struck out the side to seal the series victory.
What can be said about Uribe that hasn't been said before? He started the season on the bench because the Dodgers didn't think he could contribute much to them. Most Dodger fans wished that he wouldn't play for their team ever again after the first two seasons in Los Angeles where he had a myriad of injuries that severely affected his play. Uribe never lost his sunny attitude and continued to work hard.
When the Dodgers needed a third baseman who could hit above .200 and could field decently, Mattingly chose Uribe, and he has done everything that the Dodgers could have hoped for. Some baseball people think he deserves the National League Gold Glove for third base. Whenever the Dodgers need a big hit to score, Uribe has often been the one to deliver.
During his career, Uribe has had a flair for the dramatic. After Puig opened the eighth inning with a double, Mattingly asked Uribe to sacrifice bunt because there are so many ways to score a runner from third with one out, but Uribe couldn't deliver, a seldom occurrence this season. With two strikes, Uribe connected for a thunderous game-winning homer. This was fitting since Uribe has become the inspirational leader for the Dodgers.
Needing eight more wins to be world champions for the first time in 25 years, Dodger fans everywhere will support their team in their pursuit of their lofty goal, and the Dodgers will try to continue to amaze us with their teamwork and outstanding play.
Sarah D. Morris can be reached at sarahmorris27@gmail.com. This story was not subject to the approval of Major League Baseball or its clubs.