No small feat: Sox dispatch Rays, head back to ALCS
No small feat: Sox dispatch Rays, head back to ALCS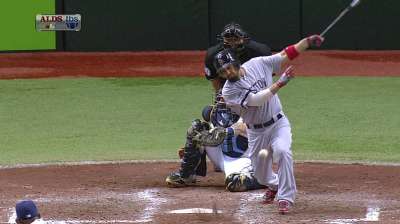 ST. PETERSBURG -- By the time it was over, the stress of the night seemed like it never happened for the Red Sox. Instead, they mobbed each other in salute of their latest accomplishment -- a trip to the American League Championship Series.
In a gritty performance all the way around, the Red Sox dispatched the pesky Tampa Bay Rays, 3-1, in a tense Game 4 of the American League Division Series on Tuesday night at Tropicana Field.
"That's what our team is built on," said Dustin Pedroia. "We're going to find a way to beat you a thousand different ways. Tonight it was a wild pitch and an infield hit and [Shane Victorino] is flying down the line."
With nine outs to go, Boston was down 1-0 and faced the very real possibility of having to face Tampa Bay ace David Price in a winner-take-all Game 5 showdown Thursday at Fenway Park.
Instead, manager John Farrell's team can rest up in advance of Game 1 of the ALCS on Saturday at Fenway Park. The opponent will either be the Tigers or the Athletics, who will play Game 5 of their ALDS on Thursday in Oakland.
This is the first trip to the ALCS for Boston since 2008. With another four wins, the Red Sox can get back to the World Series for the first time since '07. It has been a surreal ride for a team that won 69 games a year ago, only to bounce back with 97 in the regular season, and then a 3-1 series victory against a solid Rays team.
"We've done it all year," said third baseman Will Middlebrooks. "You can't ever count us out. Even in games we've lost this year, we've made a comeback, it seems like, in every game. You can't ever count us out. It's a resilient group of guys."
The game turned in the top of the seventh, when the Sox at last put together the sustained rally they needed, albeit one that was of the small-ball variety.
Top prospect Xander Bogaerts pinch-hit for Stephen Drew for his first career postseason plate appearance and reached with a walk against Jake McGee.
"It's a big situation, but I felt very calm," said Bogaerts. "It's the biggest walk of my career."
It became that thanks in large part to Jacoby Ellsbury. The leadoff man was marvelous in this series and belted a single to right-center, and Bogaerts raced to third.
Rays manager Joe Maddon, who made a flurry of pitching changes from the second inning on, went to right-hander Joel Peralta.
That's when things started happening for the Red Sox. Peralta's first offering was a wild pitch, and Bogaerts roared in with the tying run. Ellsbury was also off on the pitch, and he stole second and then scooted to third to put the go-ahead run 90 feet away.
Victorino hit a broken-bat dribbler to shortstop and beat Yunel Escobar's throw to first, scoring Ellsbury with the go-ahead run.
"I knew it was going to be a tough at-bat with Peralta in the game," Victorino said. "I haven't had much success against him. Whatever it took. Obviously that first pitch, I saw Jacoby take off. Jacoby was able to get to third. I was telling myself, 'Hey, put this ball in play wherever way you can. Just try to make something happen.' I came out on the good end with a broken-bat infield hit. I was able to beat it out."
From there, Boston's bullpen took it home. The first man in was Craig Breslow, and he did a brilliant job, striking out James Loney to end the sixth and then whiffing the heart of the Rays' order in the seventh -- Evan Longoria, Ben Zobrist and Desmond Jennings.
Breslow retired another batter in the eighth and departed after giving up an infield single to Escobar.
"He's been, I don't want to say an unsung hero, but he's flown under the radar most of the year," Farrell said of Breslow.
Junichi Tazawa came on for just one batter, striking out pinch-hitter Matt Joyce.
Although Koji Uehara surrendered a walk-off homer to Jose Lobaton to end Game 3, Farrell went right back to his ace closer for the four-out save.
And this time, the righty, who has been brilliant nearly all season, came through.
Uehara fired a 1-2-3 ninth, striking out Longoria to end the series.
"I'd completely gotten over what happened yesterday. It was a new day." Uehara said.
Jake Peavy turned in a strong performance for the Red Sox, allowing five hits and a run over 5 2/3 innings. He walked none and struck out three while throwing 74 pitches.
The low pitch count indicated the urgency of the game.
"Jake, on a normal situation, we're probably having a fist fight on the mound right there," said Farrell. "Our starters recognize the time of the year it is, the importance of every out, the importance of every matchup."
The scoreless stalemate was finally broken in the bottom of the sixth when the Rays produced their first fruitful rally against Peavy, who threw just 56 pitches over the first five innings.
Escobar started it with a leadoff double high off the wall in left. Lobaton did his job with a grounder to second, moving the go-ahead run to third, and David DeJesus hammered a single to right to make it a 1-0 game.
Aside from that one hiccup, Peavy was tremendous.
"It was a hard-fought win," Peavy said. "We didn't want it any other way than it happened tonight."
The Red Sox looked like they were about to score in the top of the second, when they loaded the bases with nobody out. But Maddon then pulled a stunner, giving starter Jeremy Hellickson a quick hook.
Perhaps it had something to do with Jarrod Saltalamacchia's strong career numbers (.320 average, three homers and five RBIs) against Hellickson. At any rate, it worked. Jamey Wright came on and struck out Saltalamacchia. Drew stepped up next and hit a bullet, but Loney snared it out of the air at first and fired to second, where he was able to double off Mike Napoli.
"I wasn't expecting [a pitching change] in the second inning, but Joe Maddon, he's a good manager, he knows what he's doing over there," said Saltalamacchia. "Sometimes it looks a little different, but he does things for a reason. He's always got a plan. I was expecting them to use their bullpen, but I wasn't expecting it that early, to be honest with you."
Pedroia tacked on an insurance run in the ninth with a sac fly to score Bogaerts.
"My approach and the team's approach wasn't any different from Game 30 of the year," said Pedroia. "It didn't matter what game it was. We're trying to show up to win. That's it. Today wasn't any different than any other game after a loss."
But by the time the game ended, the champagne that flowed around the clubhouse made it clear this was far more than just another game.
"We're still on track to accomplish our goals, and that's the biggest thing," Pedroia said. "Got to get some rest and get ready for the next one."
Ian Browne is a reporter for MLB.com. Read his blog, Brownie Points, and follow him on Twitter @IanMBrowne. This story was not subject to the approval of Major League Baseball or its clubs.