Miller staying prepared in bullpen
Miller staying prepared in bullpen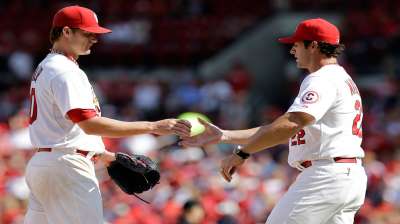 ST. LOUIS -- Shelby Miller is on standby. After starting 31 games in the regular season, the rookie right-hander was relegated to the bullpen for the National League Division Series, and he is ready in his new role for whenever his name is called.
"I'm just pretty much taking it day by day," Miller said. "[I'm] keeping it simple, because you never know what days you're going to pitch. As a starter, you kind of have an idea of when you're going to pitch. And [as a reliever], I have no idea when I'm pitching, so my routine is about as simple as it can get, and I'll adjust it from there."
Miller has pitched just once since his last start on Sept. 25, and in the meantime, he has been throwing to keep his arm fresh. He tossed the eighth inning of Friday's Game 2 loss, surrendering a solo homer and striking out a batter.
The right-hander tossed 3 1/3 innings of relief in last year's NL Championship Series, allowing two runs on four hits and a walk in two St. Louis losses.
The Cardinals have not ruled out using Miller for a start should they advance beyond the NLDS. Miller estimated that he would need just one bullpen session to transition back into that role.
Chad Thornburg is an associate reporter for MLB.com. This story was not subject to the approval of Major League Baseball or its clubs.