Tigers rally behind Scherzer to force Game 5
Tigers rally behind Scherzer to force Game 5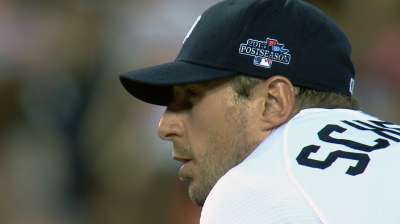 DETROIT -- Take a deep breath. It starts again in two days.
By then, hopefully the Tigers will have caught their breath. At long last, just when they seemed doomed to postseason disappointment in Game 4 of the American League Division Series, they might have just found their stride.
"Looking over in the dugout and seeing how pumped up they were for me, it just kind of gave me chills," Austin Jackson said after his broken-bat, go-ahead RBI single in the seventh inning finally turned the game for good in Tuesday's 8-6 win over the A's. "Just happy to get it done in that moment."
He wasn't the only one with that feeling. Max Scherzer thought he had given up the game twice.
"That's the stuff you dream of," the Tigers' ace-turned-reliever-for-a-day said of his eighth-inning escape with the bases loaded and nobody out. "Maybe it's not the ninth inning, but that's the stuff you dream about pitching. … I mean, that's something I'll never forget."
After all this, the Tigers have earned the right to go through it all again, this time in a winner-take-all Game 5 in Oakland on Thursday (8 p.m. ET on TBS).
A Tigers win Thursday will make the offensive woes of the past few days a character builder. Whether anybody will remember the feeling of despair running through Comerica Park after four innings of Game 4 is another question. As bad as it looked, hitless entering the fifth against A's starter Dan Straily, that despair wasn't running through the dugout.
"The one thing I told the guys, we have to stay in the moment," hitting coach Lloyd McClendon said. "Everyone's going to be tough. Nobody said this was going to be easy. If we stick together, we could pull this off. Just keep grinding, grinding, and grinding, and good things can happen. Austin is the perfect example of that."
Or as Victor Martinez put it, "Definitely, there's always a hope. … If you don't have that hope, just throw in the towel."
The Tigers were five innings away from being no-hit out of the playoffs when their offense awakened, starting with a Prince Fielder bloop single into left field, of all things. Two batters and a Martinez single later, as Jhonny Peralta's drive sailed into the bullpen beyond left field, they had a new game with their first home run in two weeks.
"It seemed like we fed off that energy," Jackson said.
They were nine outs away from elimination, having just seen Coco Crisp haunt them again with a go-ahead single off Scherzer to make it 4-3, when Martinez gave the Tigers another game-tying homer, this one corralled by a fan reaching just over the right-field railing as Josh Reddick leapt at the fence to try to bring it back.
"It was clear he was not going to catch the ball," crew chief Gary Darling said, "so it was clearly going to be a home run. There wasn't any other evidence on replay to turn it around."
The Tigers had potentially seven outs left to try to get their first lead since Game 1, and they had their leadoff man with the deepest struggles at the plate faced with an 0-2 count. That's when Jackson, booed for his first three plate appearances after his strikeout total reached 10 for the series, made just his second ball put in play in three games count.
Jackson was a .213 hitter off left-handers in the regular season, facing a lefty in Sean Doolittle who held right-handed hitters to a .227 average. The 96-mph heater Jackson hit snapped his bat, but had enough of it to loft safely into right field and send pinch-runner Andy Dirks home for a 5-4 lead.
"Hopefully that gets him going," said Tigers manager Jim Leyland. "As you know, he's struggled in this series a little bit, but sometimes that's the magic that gets a guy going."
Just for good measure, the Tigers were a base hit away from a heartbreaking A's comeback when Scherzer turned in the biggest escape of his Detroit career.
He could have walked in the tying run on his full-count changeup to Reddick with the bases loaded and nobody out, but Reddick swung through it. Stephen Vogt fouled off three pitches, then swung through a 98-mph fastball, too.
Scherzer thought he had given up the lead as he whipped his head around to follow Alberto Callaspo's line drive toward the left-field line, then looked to the chilly fall sky at Comerica Park when the ball landed foul.
"I thought I gave up the hit," Scherzer said. "I thought the ball was down and it tailed just foul. I was so happy that happened."
A few pitches later, as Callaspo finally centered one on Scherzer's full-count delivery, Scherzer thought his luck had run out. Again, Jackson became the hero, getting a jump on the ball to his right and running it down easily.
"It worked out perfectly," Jackson said.
Three more runs in the eighth, two of them on an Omar Infante double, pushed the Tigers past their run total for the previous three games in the series. Still, down four in the ninth, the A's rallied off Joaquin Benoit for two runs and had the potential tying run at the plate before Benoit struck out Seth Smith in an eight-pitch battle with four foul balls.
Benoit's nonplussed reaction to the last out, getting his normal congratulations from catcher Alex Avila, belied the nine innings it took to get there. It might have been a preparation for the nine innings, or more, that await.
"This whole season, the way we battled and played as a team, comes down to one game," Game 5 starter Justin Verlander said. "May the best team win."
Jason Beck is a reporter for MLB.com. Read Beck's Blog and follow him on Twitter @beckjason. This story was not subject to the approval of Major League Baseball or its clubs.