Juan and done: Uribe powers Dodgers to NLCS
Juan and done: Uribe powers Dodgers to NLCS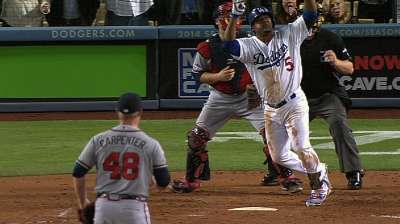 LOS ANGELES -- The Dodgers didn't need a swimming pool to celebrate Monday night, but they did need Juan Uribe.
After Clayton Kershaw pitched six innings on short rest and Carl Crawford slugged a pair of home runs, Uribe continued his comeback from forgotten man to folk hero. He slugged a decisive two-run homer in the bottom of the eighth inning as the Dodgers clinched the best-of-five National League Division Series with a dramatic 4-3 comeback win over the Braves.
Uribe's home run -- launched on a 3-2 David Carpenter pitch after fouling two bunt attempts -- made a winner out of his former Giants teammate, Brian Wilson, who pitched a scoreless eighth inning. Kenley Jansen struck out the side in the ninth inning for the save.
"It was a good moment for me," said Uribe, a Giants World Series hero in 2010 with five career postseason homers. "It was a good moment, too, for doing my job. This is what I tell my teammates. A lot of people want to be in the moment that we have right now. And this moment we'll never forget."
With the win, the Dodgers advance to the NL Championship Series and will play the winner of Wednesday night's Game 5 between St. Louis and Pittsburgh. The NLCS opens Friday night on TBS, in St. Louis if the Cards advance, in Los Angeles if it's the Pirates.
Uribe's home run, his second in as many days, took reliever Ronald Belisario off the hook. Belisario took over for Kershaw in the seventh inning and allowed a one-out triple by Elliot Johnson and a pinch-single by Jose Constanza for a 3-2 Atlanta lead.
Uribe's timing was huge, because if the Dodgers don't score in the eighth, they're going to see 100-mph closer Craig Kimbrel in the ninth. "We were up against it right there with Kimbrel getting ready," catcher A.J. Ellis said.
When Kershaw was announced as the starter earlier in the day, it presented an apparent mismatch against Braves journeyman Freddy Garcia. Except for the Crawford homers, Garcia hung in there for six innings too, while Kershaw was undermined by an Adrian Gonzalez error that led to two unearned runs.
"He matched pitch for pitch with Kershaw," Braves manager Fredi Gonzalez said of Garcia. Kershaw allowed three hits, struck out six and walked one four days after allowing three hits in seven innings with 12 strikeouts in Game 1. He became the first starter on three days' rest in the postseason to work six innings without allowing an earned run since Andy Pettitte and Josh Beckett in 2003.
He said that after being in the playoffs in 2008-09, then going through the lean years of 2010-12, he's developed a greater appreciation for the significance of the playoffs.
"My first two years I kind of just thought that always happened," said Kershaw, who was joined in the clubhouse celebration by Hall of Famer Sandy Koufax. "The last three years of not getting to go really taught me to embrace this opportunity.
"If Donnie wanted me to pitch tomorrow, I would. This is the postseason. All that other stuff, the preparation, is he going to be ready, is your arm going to be tired? Throw that out the window. It doesn't matter. You just go."
Kershaw kept the game winnable until the Dodgers found a way to win it, which they've gotten pretty good at doing this year. They hit .333 as a team, including Hanley Ramirez (.500), Puig (.471), Uribe (.375), Crawford (.353) and Ellis (.333).
The Braves hit .214 on the series. Brian McCann went hitless in the series and struck out four times in Game 4. Kershaw, who has won three consecutive regular-season ERA titles, finished with a 0.69 ERA.
"He's the best pitcher on the planet," said Ellis. "He's a warrior. He wants to be in these moments. And we did him no favors behind him."
Kershaw, who made 124 pitches in Game 1, made 91 pitches in Game 4 and didn't lose anything from his Thursday night dominance. His fastball topped out at 94 mph in the first inning and 95 mph in the sixth. The decision to lift him was made after manager Don Mattingly and pitching coach Rick Honeycutt spoke with Kershaw on the bench during the bottom of the sixth inning.
"We felt like he did his job," Mattingly said. "He stated his case to stay in. But Rick and I talked before the game and we knew we'd have to make the decision and pull the trigger. It wasn't easy. On short rest, he couldn't do anything more. You've got to do the right thing for Clayton. You've got to do the best thing for your ballclub."
The Dodgers left a pair of runners on base in the seventh inning and rookie Yasiel Puig led off the eighth with a clutch double over first base, his second hit. A redeemed Uribe, signed three years ago after being a Giants World Series hero, launched the biggest homer of his Dodgers career over the left-field fence, pumping his fist as he rounded first base.
Mattingly said he deployed the bunt strategy, as he has all season, to get the tying run 90 feet from scoring.
"I'm so thankful Juan wasn't able to get the bunt down," said Ellis. "I've never heard a louder stadium in my life."
Mattingly had some interesting thoughts, too, as Uribe's home run sailed into history.
"Why am I bunting him? That's what I thought at first," he admitted. "But really, I'm thinking of shooting the ball to the right side, moving a runner over, driving him in and the next thing you know, as soon as he hit it, I knew it was gone. I'm thinking, playoffs are so stupid, aren't they? Just crazy. That's what I'm thinking about." The Dodgers partied wildly in the clubhouse and it spilled back onto the field.
"Comparing it to Arizona [clinching the division and celebrating in the Chase Field pool], we get to do it in front of our home fans and they stuck around," Kershaw said. "They want it just as much as we do. It was a special night to get to do it here in L.A. Hopefully we can do it a couple more times."
Until Uribe's heroics, the Dodgers' offense was essentially Crawford. Having lined a three-run homer into the Braves' bullpen in Game 3, he welcomed Garcia to Game 4 with a towering home run over the right-field fence, only the second leadoff homer in the postseason in franchise history (current first-base coach Davey Lopes had the other in 1978).
Crawford had two homers over the final five months of the regular season. It was his eighth homer leading off a game, including one off Garcia in 2005.
And Crawford wasn't done. With one out in the third inning, he lined a 2-2 sinker inside the right-field foul pole for his second two-homer game of the year, eighth of his career and first time for a Dodger in the postseason since Shawn Green in 2004. Crawford received a curtain call.
The inability of the Dodgers' defense to turn two possible double plays led to a pair of unearned runs and ran up Kershaw's pitch count in the fourth inning after Freddie Freeman's leadoff single.
Evan Gattis grounded sharply to Gonzalez. Instead of stepping on the bag for one sure out, he quickly threw to second base before shortstop Hanley Ramirez could get there for Gonzalez's second error of the game.
Kershaw struck out McCann, but Chris Johnson singled home Freeman with Gattis stopped at third. Andrelton Simmons bounced a potential double-play ball to third baseman Uribe, whose throw got the second out at second base, but Mark Ellis pulled his relay offline and Simmons was safe at first while Gattis scored to tie the game.
Ken Gurnick is a reporter for MLB.com. This story was not subject to the approval of Major League Baseball or its clubs.