Braves prepared for Kershaw this time around
Braves prepared for Kershaw this time around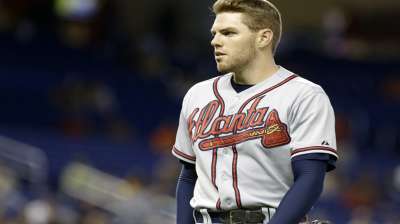 LOS ANGELES -- The Braves know who they're up against. Striking out 12 times and managing just one run on three hits against Dodgers ace Clayton Kershaw in Game 1 of the National League Division Series on Thursday, Atlanta will get another crack at him Monday in Game 4.
This time around, Atlanta believes it is better prepared. Before Thursday night, the Braves hadn't faced Kershaw since Sept. 4, 2011. Now, they will see him twice in one week and on three days' rest, something the left-hander has never done before.
"We had a tough task in Game 1. We hadn't faced Kershaw since 2011 and had a few days off, and that's always going to mess up a hitter," said Braves first baseman Freddie Freeman, who had one hit off Kershaw on Thursday.
"So we can take as many positives as can you out of this. Clayton Kershaw, he's probably going to be the Cy Young Award winner. We're going to have a battle every time you face a guy like that."
Thinking he might be a little tired after Thursday's outing, Freeman and the rest of the Braves' lineup will try to take advantage of any early miscues.
"He might be leaving some pitches over the plate," Freeman said. "I don't think you want to be passive against him. We are a very aggressive team. We go down swinging if we're going to go down. We want to go out there and just get after it as quick as we can."
Mark Bowman and Quinn Roberts are reporters for MLB.com. This story was not subject to the approval of Major League Baseball or its clubs.