Chance at sweep brushed aside in walk-off loss
Chance at sweep brushed aside in walk-off loss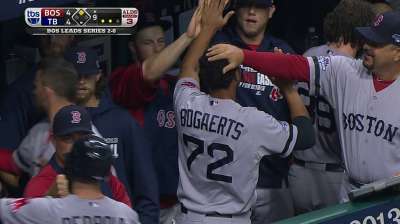 ST. PETERSBURG -- Finally, the Rays have created some adversity for the Red Sox in the American League Division Series.
Jose Lobaton ended a tense and long-winding contest by belting a two-out walk-off homer to right-center in the bottom of the ninth against Koji Uehara, who has been dominant all season for the Red Sox.
That gave the Rays a 5-4 win to slice the Red Sox's lead to 2-1 in this best-of-five series.
There was no champagne in Boston's clubhouse after this one, but there were also no long faces.
"Tomorrow night we'll be here ready to go, 8:30 [p.m. ET] game time," said manager John Farrell. "Our guys have a very strong ability to put this one behind us. We knew coming in this was going to be a hard-fought series."
All season long, the Red Sox have thrived on erasing the memory of a tough loss by coming up with a big win. If they can do that again Tuesday, Farrell's team will be on its way to the ALCS. Jake Peavy will start Game 4, which airs on TBS.
"We haven't allowed that to take effect all year long, so why start now?" said catcher Jarrod Saltalamacchia. "We're going to go home, forget about this one and come back tomorrow and play like we've done all year. Like I said, tonight was a good game. We made a couple of mistakes and they played a great game. We were still able to stay in there and almost win that one. We're pretty confident."
By the time Uehara spoke to the media, he was already looking forward to getting back on the mound for Game 4.
"It's something that's in the past already, so I'm not going to think about it," Uehara said.
It was a swift momentum change, considering that the Red Sox, down by a run entering the top of the ninth, came back and tied it.
"It was certainly a hard thing to swallow since the team had just come back and I wanted to give them an opportunity to get back on the field," Uehara said.
It was a thrilling contest, one in which the Red Sox lead 3-0 going into the bottom of the fifth behind Clay Buchholz, who has pitched like an ace throughout his injury-shortened season.
But Evan Longoria gave the Rays the timely hit they had been lacking through the early portion of the series, launching a game-tying three-run homer to left that turned the crowd at Tropicana Field into a frenzy.
"It was down and in," Buchholz said. "I wanted it to be in the dirt and left it up a little bit. It might've caught a little bit more plate than I thought. It was definitely down, and he put a good swing on it."
If not for the rocket by Longoria, Buchholz would have been lauded for a gritty effort in which he made several big pitches with men on base. The righty had to work hard in his six innings, giving up seven hits and three runs. Buchholz walked three, struck out five and threw 104 pitches.
"Yeah, he did an awesome job tonight," Saltalamacchia said of Buchholz. "Longoria is a great hitter and we've gotten him on that changeup before in the past, and we got him the at-bat before that. Not that he was sitting on it, I don't think, but I think the pitch just kind of went right down into his swing and he was able to get it out of the park as well."
When David Ortiz reached for the fourth time in his four plate appearances with a walk to lead off the eighth, Farrell elected to pinch-run for the slugger. Quintin Berry stole second, barely, getting the benefit of the close call from second-base umpire Mike Winters.
But the Red Sox couldn't get him home, thanks to a groundout by Mike Napoli, a strikeout from Saltalamacchia and a popup by Stephen Drew.
When Ortiz's spot came up later in the game, Mike Carp pinch-hit for Berry and struck out.
"No, I don't like coming out of the game, but I think it was a good move," Ortiz said. "You got what John was looking for. Berry advanced to second base with nobody out. We just didn't bring the guy in. I think it was a good move. Tie game in the eighth. You don't see that many teams beating Tampa late in the game in a tie game. They play really well. You're going to try to score runs, as many as you can."
The Rays at last forged in front in the bottom of the eighth in a tough defensive inning for the Red Sox.
James Loney opened the rally with a walk against Franklin Morales. Desmond Jennings dropped down a perfect bunt, and the Red Sox couldn't get anybody to first base in time to get an out.
"Jennings puts down a bunt right in a perfect spot in that triangle," said Farrell. "You tip your hat to him. The guy can fly and they had a baserunner."
Matt Joyce gave the Red Sox a gift by popping up a bunt, and Saltalamacchia made a tremendous catch in front of the backstop. But Yunel Escobar, facing rookie Brandon Workman, hit a grounder up the middle that Drew fielded, only to collide with Dustin Pedroia. There was no play, loading the bases.
"I was holding the runner pretty close and I didn't want to get in a situation where Stephen couldn't get there and the ball gets through," said Pedroia. "A couple of breaks didn't go our way. Come out and play well tomorrow."
The go-ahead run was on a hard grounder to first baseman Napoli, who might have had a play at the plate, but he lost the handle on the ball and had to settle for the out at first.
"Still, we minimized the damage to one run, gave ourselves a chance to tie it, which we did," Farrell said.
Will Middlebrooks started the tying rally in the ninth with a walk against closer Fernando Rodney. Jacoby Ellsbury (3-for-5, .571 in the ALDS) blooped one over third base and into short left field for a single, his third hit of the night.
Shane Victorino dropped down a good bunt, moving the runners to second and third with one out.
Pedroia did what he needed to do, hitting a grounder to deep short that got the tying run home.
Farrell then went to the man who has been his biggest weapon all season. Uehara has gone weeks this season without allowing so much as a baserunner, let alone a home run.
So it was a little stunning to see Lobaton attack his misplaced 0-1 splitter and belt it over the wall, setting off walk-off euphoria at home plate for the Rays.
"Jose does have a flair for the dramatic," said Rays manager Joe Maddon. "He's done that a couple of times now. A walk-off triple, two walk-off homers. It's incredible what he's done. What an interesting, wonderful game to stay solvent with."
Whether or not the Rays can stay solvent in Game 4 remains to be seen, but both teams agreed that they took part in a classic on Monday.
"That's a hell of a game," said Ortiz. "You can't ask for no more than that. Everybody gave a good effort, and they hit a home run off our best pitcher with a nasty pitch. You've got to give them credit. They're in the playoffs for a reason. They've been in the playoffs for a reason for years. They're a good ballclub, and they played better than we did."
As for Game 4?
"We're coming back hungry, just like we did today," Ortiz said. "We know this isn't over. We've got to come and play, make pitches, score runs. We've got to do whatever it takes to win the game."
Ian Browne is a reporter for MLB.com. Read his blog, Brownie Points, and follow him on Twitter @IanMBrowne. This story was not subject to the approval of Major League Baseball or its clubs.