Red Sox gear up for Tropicana Field's quirks
Red Sox gear up for Tropicana Field's quirks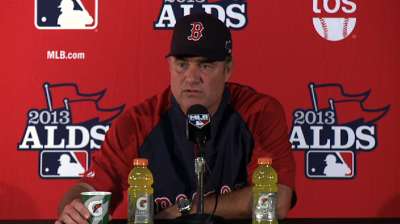 ST. PETERSBURG -- After the first two games in Boston, Rays manager Joe Maddon felt his team was "out-Fenwayed", referring to the unique nooks and crannies of the 101-year-old ballpark.
Though Tropicana Field hasn't been around nearly as long, it has its quirks as well, and the Red Sox will try to be prepared.
What is the most challenging aspect of life at Tropicana Field for a visiting team?
"The different surface that we're not typically accustomed to all the time," said manager John Farrell. "You can get a change of speed on some ground balls where the turf here seems much softer and slower than most, and then the dirt portion is relatively hard. You'd think it'd be the reverse of that, but it's not. Getting accustomed to the surface and then obviously tracking balls in the roof here [is the hardest part]."
The postseason crowds at Tropicana Field can also be a lot more challenging, particularly with all the cowbells clanging.
Farrell was Boston's pitching coach when the Rays beat the Red Sox in a memorable Game 7 of the 2008 American League Championship Series.
"Yeah, they get a little raucous here, for sure," Farrell said.
Ian Browne is a reporter for MLB.com. Read his blog, Brownie Points, and follow him on Twitter @IanMBrowne. This story was not subject to the approval of Major League Baseball or its clubs.