Napoli's defense at first a team effort
Napoli's defense at first a team effort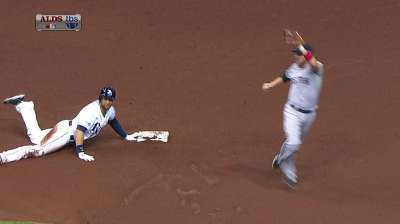 ST. PETERSBURG -- When you watch Mike Napoli play first base, you'd never know that he was primarily a catcher before this season.
The Red Sox never take Napoli out for defense in the late innings.
"That happened because of [infield instructor] Brian Butterfield, in addition to Mike's athletic ability," said manager John Farrell. "Early on before Mike got into games, we had some time we could devote after the workouts where he and Butter had a lot of concentrated one-on-one work, and in those first few days, I remember watching them work and talking to Butter afterward, he felt like this was a guy that had good mobility."
The transition from catcher to first base doesn't go so smooth. Just ask Mike Piazza. But in this case, it couldn't have gone better.
"Because he was a catcher, he plays low to the ground where a lot of balls are when you're fielding or digging the ball out of the dirt defensively," Farrell said. "Going back in the conversations with Butter, we felt like when he gained confidence getting further off the bag when we used some of our conditioning, that was an outward sign that he felt comfortable and he trusted his internal clock to get back to the bag on a ground ball elsewhere in the infield.
"By expanding that range or positioning, that's given him so many more opportunities to field balls in a straight-up position rather than having to range or dive or whatever it might have been. He's a good athlete. He came to us with a number of games played at first base. It wasn't like we took a guy green to the position and had to make wholesale changes."
The one memorable gaffe Napoli had this season at first base came at Tropicana Field in June, when he couldn't handle a popup.
But Napoli is far more comfortable on popups these days.
"Yeah, and leading up to that and then for a period of time after that, a lot of the early work came off a Ponza [pitching] machine with fly balls in Fenway Park and just getting accustomed to repetition with fly balls," Farrell said. "We've seen a number of them of late where there's not even a second thought now."
Ian Browne is a reporter for MLB.com. Read his blog, Brownie Points, and follow him on Twitter @IanMBrowne. This story was not subject to the approval of Major League Baseball or its clubs.