Beltran's greatness creating dilemma for Bucs
Beltran's greatness creating dilemma for Bucs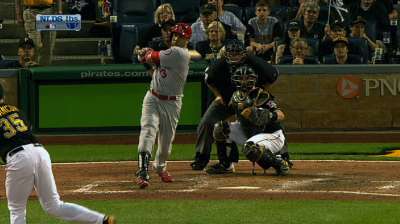 PITTSBURGH -- Any time your name and accomplishments can be mentioned in the same breath as Babe Ruth, it commands attention and respect. But any time your name is followed Holliday, Adams and Molina, it also demands situational discretion.
Such is the dilemma Pirates manager Clint Hurdle may face with Cardinals outfielder Carlos Beltran as this National League Division Series progresses. Beltran is tearing through the history books as one of the most accomplished postseason players in baseball history -- and certainly of this generation -- so it begs the question: Do you continue to pitch to him?
"That's always a tough call for a manager," Hurdle said. "You believe you can get balls to spots that you can get some outs. Then when you don't, you are kind of like, 'Duh. Would've, could've, should've.' Beltran has been doing this for years, as we're all aware."
After a three-RBI night in Sunday's Game 3 loss that included his second homer of the series, Beltran leads all active players in postseason batting average (.360), on-base percentage (.463) and slugging percentage (.794). He ranks third among active players in career postseason homers (16) and games played (37).
Beltran's eighth-inning shot off Mark Melancon moved him past Ruth for eighth on baseball's all-time postseason home run list, and he now owns a .393 average in Division Series play, good for third all time.
"He's a special, special player," first baseman Matt Adams said. "Obviously, we all know that. There's just certain guys that when the lights turn on and the bigger the stage, the better they play. And he's definitely [one of those guys]. I've never been around anybody that just has a knack for getting those big hits and hitting those big home runs in those key moments, especially in the postseason."
Still, Cards manager Mike Matheny knows his lineup is built to protect its prized postseason possession. Holliday and Molina are both former NL Most Valuable Player Award candidates, and Adams is one of the game's emerging power hitters.
In short, Beltran has shown he can hurt you. But the same goes for the hitters protecting him.
"I do think the problem for me right now is that guy hitting behind Beltran is a good hitter as well," said Hurdle, who managed Holliday in Colorado. "You have to pick which guy you want to go after and which guy you don't want to deal with. ... I think it's a gut feeling at that time, [and that's] what it will come down to."
Jenifer Langosch is a reporter for MLB.com. Read her blog, By Gosh, It's Langosch, and follow her on Twitter @LangoschMLB. Joey Nowak is a reporter for MLB.com. Follow him on Twitter at @joeynowak. John Schlegel is a national reporter for MLB.com. This story was not subject to the approval of Major League Baseball or its clubs.