No no-no? No problem: Cards survive to force Game 5
No no-no? No problem: Cards survive to force Game 5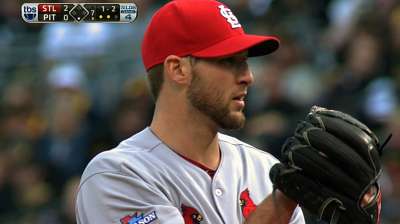 PITTSBURGH -- Not often one for hyperbole, Yadier Molina couldn't contain his giddiness as he waited for the Cardinals to wrap up an early spring game along Florida's east coast. He had just been behind the plate, catching three innings by a 21-year-old who wasn't yet a year removed from college.
Singling out Michael Wacha's pitches, poise and presence, Molina was bold in his assertion that day. "I think," Molina said at the time, "that guy, right now, can pitch in the big leagues." On Monday, the rest of the baseball world understood what Molina saw more than six months ago.
Wacha, who arrived in the Majors three months after that spring appearance, debuted on the postseason stage hoping to carry over momentum from the near no-hitter he threw in his final regular-season outing. What he did was nearly repeat it.
Supported by Matt Holliday's sixth-inning homer, Wacha extended the Cardinals' season by dazzling in a 2-1 Game 4 win over the Pirates. The victory came in front of 40,493 at PNC Park and sends this National League Division Series back to St. Louis, where the Cards have ace Adam Wainwright lined up for a second win-or-go-home game Wednesday at 7 p.m. CT on TBS.
"We did a lot of gushing about him before we even got him out there today, and I think everybody sees why," manager Mike Matheny said. "I don't know if you can put a kid in a tougher spot. He's just got a knack of getting up there and, very business like, getting the job done."
The Cardinals selected Wacha to start Monday's elimination game after watching him hold the Nationals hitless for 8 2/3 innings during the final week of the regular season. An infield single off Wacha's glove foiled that no-hit bid in what was the ninth start of his career.
Wacha picked up Monday where he left off in that start, not allowing the Bucs their first hit until after 7 1/3 innings. And when Wacha couldn't finish the win, rookies Carlos Martinez and Trevor Rosenthal did so for him.
"We're sitting there, and after the last game he'd pitched, we're like, '[Wow], he's going to do it again. You've got to be kidding me,'" Chris Carpenter said. "We just watched three young kids out there tonight in their early 20s in the biggest game of their lives with no room for error go out and dominate a game. It was a pleasure to be a part of, a pleasure to watch, and I'm not sure you're ever going to see another one like it."
Wacha was perfect through five innings, and he finally got some offensive support in the sixth. Following Carlos Beltran's second leadoff walk of the game, Matt Holliday launched Charlie Morton's 2-2 pitch over the wall in center for his first home run this postseason. It was the Cards' second postseason homer at PNC Park, a place where they had gone homerless all season.
"When we scored those two runs," Beltran said, "I had a feeling that was going to be enough."
Wacha opened the bottom half of the inning with a four-pitch walk, but he settled back in after a quick visit from his third baseman. David Freese advised Wacha to take a few deep breaths. The rookie absorbed the information and responded by retiring the next seven in a row.
"I was just trying to go out there and throw up zeros," Wacha said. "That's my job, to go out there and try to win ballgames and keep our team in the game."
What he did, too, was flirt with history. Wacha moved five outs from a no-hitter with a strikeout, his ninth of the game, to open the eighth. Having established his fastball command early and mixing in a curveball and a changeup that the Pirates couldn't time, Wacha allowed no hard contact until Pedro Alvarez crushed a 93-mph fastball 438 feet to bring the Bucs to within one run and halt the no-hit attempt.
Wacha walked Russell Martin immediately after, and that ended his day.
"Some kind of postseason outing for a young man in his first postseason game," Pirates manager Clint Hurdle remarked afterward.
Martinez took hold of the one-run lead and got a key assist from Molina, who threw out pinch-runner Josh Harrison attempting to swipe second. Martinez, one day after shouldering the Game 3 loss, closed the inning with a strikeout of Jose Tabata.
"I was very excited that they trusted me in a very tough situation," Martinez said, with teammate Jaime Garcia translating.
Rosenthal, the third rookie right-hander to take the mound for the Cardinals, then earned his first postseason save by getting through a stressful ninth. A two-out walk to Neil Walker brought up Andrew McCutchen and brought out Matheny for a mound visit.
"It was basically just an opportunity to breathe," Matheny said. "I made a couple of light comments, and then reinforced to him the fact that he's got a whole group of guys behind him that have all the faith in the world in him, and just trust himself, trust the team behind him and he's going to get us through it."
After falling behind, 3-0, Rosenthal retired McCutchen on a popup to complete the one-hit win.
"It's easy to go out and have confidence in yourself," Rosenthal said, "when you know you have a team like that backing you up."
That sealed Wacha's win and final line, which when combined with his last start, looks like this: two hits, four walks, 18 strikeouts and one run in 16 innings. In 16 1/3 innings against the Pirates this season, Wacha allowed one run on three hits.
"He was just as good if not better than what we saw last time," Walker said. "He's kinda been their Gerrit Cole -- basically he did to us what Gerrit did to them."
But whereas Cole went as the heralded top pick in the 2011 First-Year Player Draft, Wacha went untouched for the first 18 picks the year after. Waiting with selection No. 19 -- a pick they had as compensation for Albert Pujols' departure -- the Cards snagged the lanky right-hander out of Texas A&M University.
From there, the impressions began to build. General manager John Mozeliak met him for the first time when Wacha traveled to St. Louis to sign his professional contract. It was Wacha's voluntary and sincere interaction with an elderly friend of Mozeliak's that struck him more than the bullpen session Wacha threw on that day.
"That just shows you the type of personality that he has," Mozeliak said. "A lot of times you compare to like an Adam Wainwright as far as his personality, and I think if you're going to be compared to Adam, that says a lot."
The comparisons to Wainwright continued. Wacha stands only an inch shorter than Wainwright's 6-foot-7. Both right-handers feature a dominant offspeed pitch. Wainwright made one distinction on Monday, though, reminding everyone that "when I was 22, I was terrible."
Wacha left Spring Training with the Cardinals believing he'd make a big league impact this season. It came earlier than expected due to injury, but the Cards were still cautious in monitoring his innings so there would be no Stephen Strasburg-like shutdown late.
"We wanted him to gain experience," Mozeliak said. "But we didn't want it to be a workload that would preclude him from being used at the Major League level in August, September or, of course, October."
With his start on Monday, Wacha became the first first-round pick since Barry Zito (2000) to start a postseason game less than two years after being drafted. He finished it by carrying a no-hitter deeper into a postseason game than any rookie in baseball history.
"He's overly mature, very confident," Carpenter said. "But he keeps it in the way he's supposed to. He respects the game, and he goes out and competes. It was so much fun to watch him do it tonight."
Jenifer Langosch is a reporter for MLB.com. Read her blog, By Gosh, It's Langosch, and follow her on Twitter @LangoschMLB. This story was not subject to the approval of Major League Baseball or its clubs.