Leyland: Peralta could see action at shortstop
Leyland: Peralta could see action at shortstop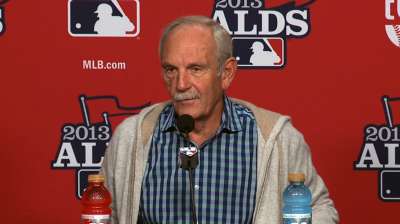 DETROIT -- Looking for a jolt of offense, Tigers manager Jim Leyland put Jhonny Peralta into his starting lineup in left field for Game 3 of the American League Division Series on Monday. However, he has not eliminated the possibility of a start at shortstop.
The scenario was part of the discussions Leyland had with his coaches on potential lineups for the playoffs.
"We made several lineups out prior to the playoffs," Leyland said. "There was a lineup or so with him at shortstop, depending how the series goes. Certainly we're not playing him at shortstop today, so we'll have to wait and see."
It's a bit of a shift from the Tigers' strategy leading into Peralta's return. Leyland and team president/general manager Dave Dombrowski said more than once that Jose Iglesias is the shortstop now and for the future. That, of course, came before the current struggles from this offense to produce runs.
The Tigers have benefited greatly from the defense Iglesias has provided them since taking over at short. He was an acrobatic throw away from halting Oakland's rally in Game 1 ahead of Yoenis Cespedes' two-run homer. However, Iglesias entered Monday batting 1-for-15 since a fastball off his left wrist cost him a week. The lone hit was an infield single to shortstop.
If Peralta were to start at short, it would come at a defensive tradeoff. The Tigers would seem better equipped for that tradeoff behind 200-strikeout pitchers Max Scherzer, Justin Verlander and Anibal Sanchez than, perhaps, Doug Fister, owner of the fourth-highest ground ball/fly ball ratio in the AL this season.
For now, it's a late-game option if the Tigers opt to pinch-hit for Iglesias.
"I'm not going to start the game that way," Leyland said, "but certainly, if we happen to pinch-hit, we could bring Jhonny Peralta in at shortstop. That would be an option."
Jason Beck is a reporter for MLB.com. Read Beck's Blog and follow him on Twitter @beckjason. Bobby Nightengale is an associate reporter for MLB.com. This story was not subject to the approval of Major League Baseball or its clubs.