A's belt three homers to take 2-1 ALDS lead
A's belt three homers to take 2-1 ALDS lead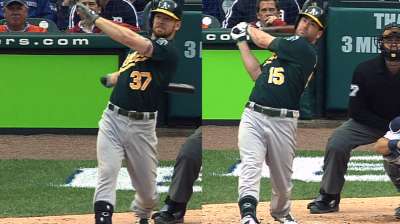 DETROIT -- This was as complete a game as the A's could've played, with a little bit of drama sprinkled in at the last minute just for kicks. It didn't matter what became of Grant Balfour's ninth-inning verbal dispute with Tigers designated hitter Victor Martinez. Surely it made for good theater, but Oakland's bats won the bigger battle.
Now the homer-happy A's, who also got another dose of steady pitching and an exceptionally strong defensive showing, are on the verge of punching a ticket to their first American League Championship Series in seven years following a breakout performance on a chilly Monday afternoon in Detroit.
Never mind that AL ERA leader Anibal Sanchez was on the mound. The A's tagged the Tigers right-hander for three home runs, two from Brandon Moss and Seth Smith in a telling three-run fifth inning, in a 6-3 victory that gave them a 2-1 lead in this best-of-five AL Division Series.
That's four home runs in this series for the A's -- and zero for the Tigers -- after finishing the regular season with 186 of them, third most in the Majors. So forgive them for striking out another dozen times Monday.
"That's the logic with our team," said Josh Reddick, who hit the other homer. "We're going to strike out and we're going to hit the long ball, so once we get those going, it's going to be a good day. And to do it against a guy like Sanchez, who's been great all year, it does a lot for your confidence coming into tomorrow."
Tomorrow could be the end for the Tigers. Teams that have gone ahead 2-1 in the Division Series have won it 35 out of 43 times, and nine of the last 10. Moreover, the A's lost two in a row just once in their final 35 games this season.
"For us to have a complete game like that, a big team win, hopefully it'll give us some added confidence going into tomorrow," said Sean Doolittle, who threw a scoreless eighth inning. "We're still very business-like in here. After going through it last year, having been here before and kind of knowing a little bit more what to expect , we're enjoying getting the win but know we still have work to do."
Oakland has not made it past the first round of the playoffs since 2006, and even then the A's were swept in the ALCS by a Tigers team they won't have to worry about anymore if they can take care of business in Game 4 on Tuesday at 2 p.m. PT on TBS. A potential Game 5 would be in Oakland on Thursday.
The A's would do well by simply finishing up the series against Bay Area native Doug Fister on Tuesday. Sure, they would have home-field advantage in Game 5, but they'd also have to face Max Scherzer again, and in a must-win scenario to boot.
"Tomorrow is going to be very tough game for us to win," said Derek Norris, "but I don't think it's out of reach, and it would definitely be nice to close it out in four and not five."
"Obviously, now that we have the opportunity, the goal is to win tomorrow and not have to see Scherzer again," added Moss. "But the guy tomorrow is no slouch. He's a good pitcher. And we're playing here, and their fans come out and get loud. We're going to have to battle our at-bats off.
"We look at it as we have one to win one. If we get to five, we get to Game 5. But that's a terrible way to look at it, two games to win a game, because that's just setting yourself up for a bad game. This is not a team you want to give any momentum to. They're too good."
Scherzer shut down the A's with authority on Friday, as Justin Verlander did alongside an equally dominant Sonny Gray in a memorable pitching duel on Saturday. Monday's affair was unlike any other in this series. The A's and Tigers combined to score as many runs through their first 3 1/2 innings (six) as they did total in the first two games.
Tigers third baseman Miguel Cabrera aided the cause with a two-out fielding error on Yoenis Cespedes' sharp grounder that plated the game's first run in the third. But Oakland did just fine on its own in the next few innings, starting with a leadoff home run from Reddick in the fourth.
Saturday's walk-off hero, Stephen Vogt, followed Reddick's solo shot with a triple, and Coco Crisp brought him home one out later courtesy a shallow sacrifice fly to left field.
Oakland righty Jarrod Parker gave up all three of his runs in the fourth to end the Oakland staff's 20-inning scoreless streak and erase his three-run lead. But Sanchez, who had given up just nine home runs all season, including only four at Comerica Park, allowed two more in the fifth to give it back.
Moss hit a no-doubter to right field with one out, and Smith logged one of his own to left field following a single off the bat of Cespedes, who has tallied a base hit in each of his eight career postseason games.
For Smith, it was his fourth home run in just 22 plate appearances against Sanchez, who exited the game after the long ball.
Parker got through five innings on 73 pitches before handing the ball to Dan Otero, who gave the A's two scoreless innings. Both got help via crucial double plays, which is significant in itself but more so when knowing the A's turned the fewest in the Majors during the regular season.
After Doolittle's eighth, Balfour picked up the save with a scoreless ninth that included a heated exchange with leadoff batter Martinez after a foul ball. Benches cleared and warnings were issued, but there was no further incident.
"He was staring me down," said Balfour. "So I said, 'Why you staring me down? What's your problem right now? You got a problem, come out here.' So he came out. We had a few words. No big deal. I like the fire. Obviously he does, too."
Jane Lee is a reporter for MLB.com. Read her blog, Major Lee-ague, and follow her on Twitter @JaneMLB. This story was not subject to the approval of Major League Baseball or its clubs.