Gordon regrets flinch on steal attempt in Game 2
Gordon regrets flinch on steal attempt in Game 2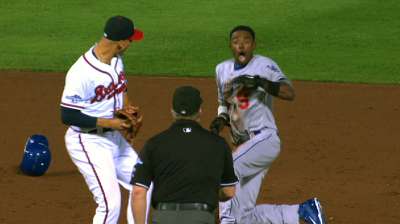 LOS ANGELES -- Upon further review, Dodgers pinch-runner Dee Gordon has one regret about his controversial caught stealing in Game 2 of the National League Division Series.
"On my jump, I flinched," Gordon said after reviewing video of the ninth-inning play. "I wouldn't go if I had it to do again. I was looking for a key from the pitcher. I didn't even realize the flinch until I saw it on the video. I'll know better next time."
Gordon had a 15-minute baserunning session with first-base coach Davey Lopes early Sunday.
Gordon, whose primary playoff role is pinch-runner, pinch-ran after A.J. Ellis' one-out walk and was thrown out at second by backup catcher Gerald Laird. The catcher's throw to second was short-hopped by shortstop Andrelton Simmons, who slapped a tag on Gordon's lower body as Gordon slid past headfirst. Umpire Bill Miller called Gordon out.
Although Miller's call shocked Gordon and Don Mattingly said he disagreed with it, MLB executive Joe Torre said Sunday that replays were inconclusive and, if the play had occurred next season with expanded replay, it would not have been overturned.
It was Gordon's first steal attempt since Sept. 20 and the first time he had been thrown out stealing in the Major Leagues since May 18. He was 10-for-12 stealing with the Dodgers this year and 49-for-60 at Triple-A Albuquerque.
Ken Gurnick is a reporter for MLB.com. Austin Laymance is an associate reporter for MLB.com. This story was not subject to the approval of Major League Baseball or its clubs.