Dodgers take control with Game 3 rout of Braves
Dodgers take control with Game 3 rout of Braves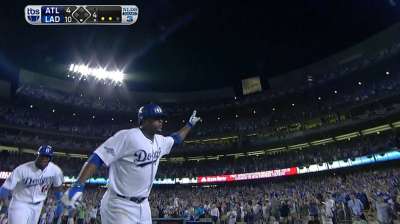 LOS ANGELES -- The Dodgers can go for the clinch Monday night in Game 4 and are still considering firing their most lethal weapon, ace Clayton Kershaw on three days' rest, even after Sunday night's wild 13-6 Game 3 win over the Braves.
Taking a 2-1 lead in the best-of-five National League Division series, the club still has fourth starter Ricky Nolasco listed as the probable, but Kershaw's abbreviated bullpen session Saturday sets him up to take over. That's more likely after Hyun-Jin Ryu's three agonizing innings Sunday required six innings from the bullpen.
Even on short rest, the Dodgers expect more and better innings from Kershaw than anybody, and they still would have Zack Greinke on normal rest if a Game 5 is necessary. Game 4 is Monday at 6:30 p.m. PT on TBS. A win in either Game 4 or 5 puts the Dodgers in the League Championship Series.
"We get a chance to close the door tomorrow," said manager Don Mattingly, who never said Kershaw was pitching Game 4, but never said he wasn't.
"The biggest thing was getting the win today. That's kind of been the plan the whole time is kind of win every day. I'd like to be able to close us out tomorrow. I didn't know there was any debate [about who starts Game 4], really. Lot of questions, right? You never know what happens. Twists and turns of this game."
What better way to do that -- and avoid a trip back to Atlanta for a Game 5 -- than to start Kershaw?
When asked after Game 3 if he was pitching Game 4, Kershaw smiled and walked away.
All of this comes in the wake of left-hander Chris Capuano's rescue job in Game 3. Capuano made the roster in part because of concerns over the health of third starter Ryu. And when Ryu was lifted after three innings Sunday, Capuano was ready. He pitched three hitless and scoreless innings of relief in his postseason debut.
That stopped Atlanta's momentum and allowed the Dodgers' offense to take over the game. Carl Crawford and Juan Uribe homered. Hanley Ramirez tripled and doubled, tying the NLDS record and the franchise record (Steven Garvey, Duke Snider) for the most extra-base hits in a postseason series (six). Yasiel Puig had three hits and outcheered cheer-squad captain Matt Kemp.
The 13 runs tied a franchise postseason record, set in the 1956 World Series against the Yankees. Ten of the runs scored on two-out hits. Five Dodgers had multiple hits and five had multiple RBIs.
Crawford added to the highlight reel for the first out in the eighth inning, when he made a running catch against the short railing in left field and tumbled over the wall and into the stands. He wasn't injured.
Catcher A.J. Ellis was hit on the left elbow by a 96-mph Jordan Walden fastball but stayed in the game. X-rays were negative and he said he expected to play Monday night.
Ryu and Mattingly insisted after the game that the pitcher was fine physically.
"There was absolutely no injury whatsoever; and, of course, there was anxiety and I was a little bit nervous taking the mound," Ryu said. "I know myself better than anyone else if I'm not hurt. Doesn't matter what people say. I'm not hurt, so it wasn't a distraction at all."
"If there had been anything physically wrong," Mattingly said, "we wouldn't have let him pitch today."
Whatever the reason for Ryu's ineffectiveness, Capuano restored order. The only thing keeping Capuano and the bullpen from six scoreless innings was another distressing outing by Paco Rodriguez, taken deep by personal tormentor Jason Heyward and unable to keep Mattingly from calling on Kenley Jansen with a seven-run lead for the final out.
Ryu allowed four runs on six hits in three innings. Braves starter Julio Teheran was worse, charged with six runs on eight hits in 2 2/3 innings. Capuano made 46 pitches, the most since he went seven innings in an Aug. 31 start against San Diego.
Capuano said he was as nervous as he's ever been in 10 Major League seasons and proved it by issuing leadoff walks each of the three innings, then pitching out of each mess.
"It was a brilliant game plan -- walk the leadoff guy every inning, a false sense of security for them," deadpanned Ellis. "I should have just put up my hand for four wide ones."
Capuano replacing Ryu is poetic justice of sorts, as Ryu was signed in the offseason essentially to replace Capuano in the rotation, even though Capuano had a career-best 3.72 ERA last year. His 198 1/3 innings, second highest on the Dodgers staff, were his highest total since 2006. He also ranked second on the club with 12 wins and 162 strikeouts.
Capuano spent this season, though, as a sixth starter in a five-man rotation, bouncing from rotation to relief to emergency starter. He also bounced onto and off the disabled list with a strained left calf muscle suffered running in from the bullpen in one of the Zack Greinke brawls; a strained a left lat muscle suffered trying to brace himself as he was falling off the mound after reaching for a grounder; and in September a strained a left groin muscle that responded fast enough from a PRP injection that he was available for this series.
He said the key at-bat for him was in the sixth inning. He walked Andrelton Simmons on four pitches, then fell behind Elliot Johnson 3-0 before getting Johnson to ground into a double play.
"It's a lonely feeling to throw seven straight balls and you have to regroup as a pitcher," he said. "That was huge -- a great feeling."
The Braves scored twice against Ryu in a 22-pitch first inning. But the Dodgers took a 4-2 lead in the second inning, three of them on Crawford's three-run homer. He had only one home run after April.
But with that lead, Ryu went right back to struggling in the top of the third inning, even made a pair of defensive misplays, and the Braves tied the game.
Then Teheran copied Ryu and let the Dodgers quickly score in the third on a double by Ramirez and a single by Gonzalez. Braves third baseman Chris Johnson made a nice backhand of Puig's sharp bouncer and threw to second, where Gonzalez obliterated pivotman Elliot Johnson, whose relay went wide of first and Puig just beat the throw down to second base. That allowed Skip Schumaker to deliver a clutch two-out RBI single that scored Puig.
Another single by Ellis knocked out both pitchers, as Braves manager Fredi Gonzalez replaced Teheran with Alex Wood and Mattingly batting for Ryu with Michael Young, who struck out.
The Dodgers put the game out of reach with a four-run fourth on an RBI double by Ramirez, an RBI single by Puig and Uribe's fourth career postseason home run.
Ken Gurnick is a reporter for MLB.com. This story was not subject to the approval of Major League Baseball or its clubs.