Nolasco primed for hometown playoff start in LA
Nolasco primed for hometown playoff start in LA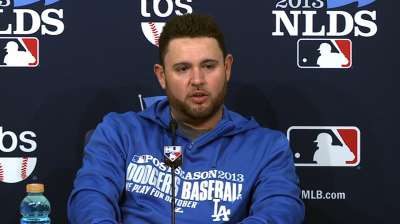 LOS ANGELES -- Right-hander Ricky Nolasco grew up just one hour east of Dodger Stadium, often dreaming of one day pitching for his favorite childhood team in October. That dream could likely be realized on Monday night at 6:30 p.m. PT on TBS in Game 4 of the National League Division Series.
With the Dodgers coasting to a 13-6 win in Game 3, Nolasco on Monday will take the mound opposite Braves veteran Freddy Garcia as he looks to lead the Dodgers to an NLDS victory. Speculation that the Dodgers might instead turn to ace Clayton Kershaw had it been a do-or-die game was put to rest with Sunday's rout.
Or was it?
Dodgers manager Don Mattingly said after Game 3 that he still planned on sending Nolasco to the mound for Game 4. However, this is the postseason and the possibility always remains that he could change his mind over the next 24 hours and ultimately call on his ace on short rest to try to shut the door on the series.
"The biggest thing was getting the win today," Mattingly said after Sunday's victory before dancing around the question with the rest of his response. "That's kind of been the plan the whole time is kind of win every day. I'd like to be able to close it out tomorrow. I didn't know that there was ever any debate [about a Game 4 starter]. Lot of questions about it, right? You never know what happens. Twists and turns of this game."
Tale of the Tape: NLDS Game 4
RICKY NOLASCO
DODGERS
FREDDY GARCIA
BRAVES
2013 regular season
Overall: 34 G (33 GS), 13-11, 3.70 ERA, 46 BB, 165 K
Overall: 17 G (13 GS), 4-7, 4.37 ERA, 17 BB, 46 K
Key stat: 17 ER in last three starts
Key stat: 1.83 ERA since entering Atlanta rotation
At Dodger Stadium
2013: 7 G (6 GS), 4-2, 2.48 ERA
Career: 9 G (8 GS), 4-3, 3.80 ERA
2013: Did not pitch
Career: 2 GS, 1-1, 2.57 ERA
Against this opponent
2013: 1 GS, 1-0, 2.57 ERA
Career: 24 G (23 GS), 6-10, 5.11 ERA
2013: Did not pitch
Career: 4 GS, 1-1, 2.89 ERA
Loves to face:

Justin Upton

, 3-for-14, 4 K
Hates to face:

Brian McCann

, 20-for-58, 8 HR, 23 RBI
Loves to face:

Juan Uribe

, 1-for-8, 2 K
Hates to face:

Carl Crawford

, 7-for-26, 3 XBH
Game breakdown
Why he'll win: Channels adrenaline in first playoff start for hometown team
Why he'll win: Has turned back the clock since September callup
Pitcher beware: Fastball velocity has dipped of late
Pitcher beware: Home runs can come in bunches on off nights
Bottom line: Lock in command early, battle to avoid the big inning
Bottom line: Keep the ball down, channel 2005 World Series form
Perhaps nobody knows that better than Nolasco himself, who was sent from a last-place team in early July to a World Series contender.
Acquired by the Dodgers in a July 6 trade with the Marlins, Nolasco admitted he was immediately intrigued by the potential to reach the postseason with his new team. The Dodgers were in midst of their season-changing turnaround at the time, having won 11 of their last 13 games to climb within 3 1/2 games of first place in the NL West. Miami, meanwhile, was mired in last place in the NL East.
"I knew the Dodgers had been playing well when I got traded over, and I knew there was the possibility of us winning this division," Nolasco said. "I was excited about it, and I'm definitely ready for the opportunity now."
Assuming Nolasco takes the mound as planned, Los Angeles will be hoping he can revert to the pitcher he was for his first two months in a Dodgers uniform.
Nolasco began his Dodgers tenure by going 8-1 with a 2.07 ERA over his first 12 starts before closing the season in a bit of a slump. Over his final four regular-season outings, including one relief appearance, Nolasco went 0-2 with an 11.77 ERA. Opposing batters hit .391 off Nolasco during that stretch, collecting 25 hits over just 13 innings.
"I feel like everything's been good," Nolasco said. "My mechanics, no matter the results my last couple starts or whatever it was, felt good, arm's felt good. Just a couple things here and there, so I'll be fine and ready to go."
Growing up in nearby Rialto, Calif., Nolasco said he and his family would attend approximately 15-20 games each year at Dodger Stadium. Come Monday night, he will have plenty of those same family members in attendance to watch him on the mound. Though Nolasco's ticket allotment is somewhat limited being the postseason, he still expects to have a rather large contingent on hand.
"I pretty much limit it to just family, but everybody is understanding and they're doing a good job of going out and getting their own and stuff like that," Nolasco said. "I just told everybody, 'Just immediate family for the playoffs and stuff.' "
Between his family being in attendance, it being his first postseason start as well as a potential elimination game and the speculation surrounding he and Kershaw, few starts in Nolasco's career figure to carry as many outliers as this one. Yet through it all, the righty insists that he is focused solely on what he needs to do once he takes the mound.
"I know what's on the line, but preparation is still the same," Nolasco said. "You go about your business and do the same things you do for a regular start. Once you cross the line, it's the same game, and everything just kind of locks in."
Paul Casella is a reporter for MLB.com. Follow him on Twitter @paul_casella. This story was not subject to the approval of Major League Baseball or its clubs.