Uncharacteristic Anibal hurt by homers as Tigers fall
Uncharacteristic Anibal hurt by homers as Tigers fall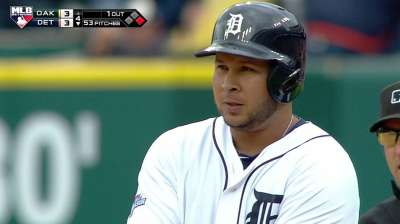 DETROIT -- All the Tigers needed were runs, the way they had been pitching. Just when they finally got them, they needed more.
Unless they find a few more where those came from, one of baseball's World Series favorites is headed home.
"We're good. We know what we have," Miguel Cabrera said after Monday's 6-3 loss to the A's in Game 3 of the American League Division Series. "We have to be ready to play tomorrow and try to force Game 5."
This was the scenario the Tigers couldn't afford, offense wasted with a bad start two days after a lack of offense squandered a pitching gem. And after the loss moved the A's ahead two games to one in this best-of-five series, it has set up the potentially cruel scenario of watching a team eliminate the Tigers in Detroit for a second consecutive year.
The Tigers face a must-win situation behind Doug Fister in Game 4 on Tuesday, which starts at 5 p.m. ET. A victory Tuesday would set up a winner-take-all Game 5 Thursday night in Oakland, with Max Scherzer on the mound.
Detroit is 3-2 in elimination games the last few years, including last year's Division Series Game 5 in Oakland. The Tigers have not won back-to-back elimination games, but they've only faced that situation in the 2011 AL Championship Series against Texas.
"We've lost games before in the playoffs, so it's not any different than today or last year or the year before," catcher Alex Avila said. "We know what we've got to do, it's pretty simple."
A loss would send the Tigers home for the winter to ponder what happened, especially to what had been one of baseball's most productive offenses.
"To win games, we need to score runs," Cabrera said. "First, we have to get on base."
Once they finally did, the A's matched them. It was the cruelest of tricks on a wind-chilled sellout crowd at Comerica Park. What had been a pitching-dominant series for two-plus games suddenly had its first offensive outburst, and a Tigers team that hadn't scored a run since the first inning of the series finally came to life.
Just as quickly, they were down again. The way the series has gone, a 6-3 deficit felt larger than 3-0 did, no matter the math.
It took the Tigers 20 innings to break through with the rally, matching their shutout string suffered against that other Bay Area team, the Giants, during last year's World Series. They not only scored one, but three, erasing what had been a 3-0 deficit, in the fourth.
Like the rally to open the series Friday night in Oakland, it was a barrage of singles with a well-timed Martinez gapper mixed in. Torii Hunter led off with a single against A's starter Jarrod Parker and went from first to third on Prince Fielder's liner into left field. After Victor Martinez pulled a ground ball just inside first base and down the right-field line, pumping his fist rolling into second, Jhonny Peralta's two-run single gave starter Anibal Sanchez new life.
Manager Jim Leyland took a chance starting Peralta in left field, and he had to hold his breath as he watched the converted shortstop turn himself around tracking a second-inning drive to the fence. When his line drive fell in the fourth, he had to feel rewarded.
"He knocked in two runs. That's why we put him out there, hoping we would get a little punch, and he did that to tie the game up," said Leyland.
The hope was that punch would extend to Sanchez, who looked out of sorts from the moment Coco Crisp doubled to start the game, one of four consecutive innings in which Oakland's leadoff hitter reached base.
"It's not about one pitch or something like that. Today, it was something about location," Sanchez said.
Sanchez, arguably the Tigers' hero last postseason and the AL's ERA leader this year, gave up just nine home runs all regular season, four over 93 1/3 innings at Comerica Park, and hadn't yielded a multi-homer game since last September. Josh Reddick's solo shot into the face of a blustery wind, combined with a Cabrera two-out error and a Crisp sac fly built Oakland's early lead.
The Tigers' rally sent Sanchez to the mound for the fifth inning with the crowd roaring. Two batters later, Brandon Moss silenced the place, his drive off a hanging changeup sailing deep enough into the right-field seats that Hunter could only stand and watch.
ESPN Stats and Information, which estimates distances on home runs at Comerica Park, put it at 393 feet. The distance it covered towards an Oakland victory felt further.
"In all honesty, I'm just trying to get a mistake, anything," said Moss, 1-for-8 with seven strikeouts for the series before that swing on a 2-2 pitch. "So right there, I swung over a couple of pitches, and he left a changeup up."
After a Yoenis Cespedes single, prompting eight throws to first as Sanchez tried to hold him, Seth Smith sent him trotting home with insurance runs, sending a fly ball to left that caught the crosswind and carried out.
"Sinker in the middle," Sanchez said. "He's a fastball hitter. I didn't keep the ball down."
Minutes after the Tigers mustered a rally, they were down three again. It was the opposite of a shutdown inning for Sanchez, who gave up three home runs in a game for the first time since his Tigers debut in Toronto on July 28, 2012.
"He's my guy, and he did lead the league in earned-run average," said Leyland, who had his bullpen warming after the Moss home run. "You figure he's going to get out of it at any time, because he's good at making pitches."
A's pitching, by contrast, put Detroit's offense back to sleep, allowing two singles and a trio of walks after the fourth and taking advantage of double plays to end the fifth and sixth innings.
A benches-clearing exchange between Martinez and A's closer Grant Balfour briefly ignited the crowd in the ninth inning, but a two-out walk to Avila was all that came of it. It left the Tigers with runs in two out of 27 innings so far this series, and 10 runs in their last seven games dating back to their division-clinching win in Minnesota.
They have at least nine innings left to try to snap out of it and send this series back west.
"To be down, 2-1, the pressure's off us," Hunter said. "We can go out there tomorrow, play our game and not worry about too much. I think that's what we need to do. I think we're trying to do a little too much. Also, they're playing well. Those guys hit the ball well today."
Jason Beck is a reporter for MLB.com. Read Beck's Blog and follow him on Twitter @beckjason. This story was not subject to the approval of Major League Baseball or its clubs.