Lineup breakdown: Cardinals-Pirates, Game 3
Lineup breakdown: Cardinals-Pirates, Game 3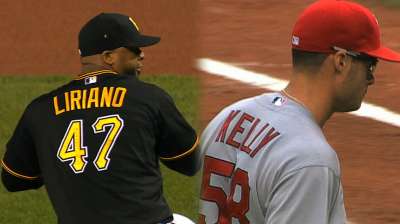 A look at today's starting lineups for Game 3 of the National League Division Series between the Cardinals and Pirates:
CARDINALS
St. Louis shuffled the lineup for Game 3 against Pittsburgh southpaw Francisco Liriano. Right-handed-hitting Pete Kozma will get his first start of the series at shortstop over Daniel Descalso, who went 0-for-7 in Games 1 and 2.
Cards manager Mike Matheny slotted Yadier Molina into the cleanup spot and moved Matt Adams -- who hit .231 against left-handers this season -- into the sixth spot in the order. Molina is 3-for-7 with a double and a homer so far in the NLDS, but 0-for-6 lifetime against Liriano.
The starting lineup is a combined 10-for-57 (.175) against Liriano, who went 3-0 with a 0.75 ERA against St. Louis in three starts this season.
Matt Holliday has had the most success in his career against the left-hander, going 4-for-10 with a double. Holliday also likes hitting at PNC Park, where he has a .309 career batting average (69-for-223) with eight homers. Switch-hitting Carlos Beltran is 3-for-10 lifetime against Liriano, but hit .252 against southpaws this season, versus .315 against right-handers.
1. Matt Carpenter, 2B
2. Beltran, RF
3. Holliday, LF
4. Molina, C
5. David Freese, 3B
6. Adams, 1B
7. Jon Jay, CF
8. Kozma, SS
9. Joe Kelly, SP
PIRATES
The Bucs' No. 3 and 4 hitters have combined for one extra-base hit during postseason so far. Andrew McCutchen is 5-for-11 in three playoff games, but those hits are all singles and he does not yet have an RBI. Justin Morneau is 4-for-13 with a double, but also no RBIs.
Pittsburgh manager Clint Hurdle is going with the same lineup as Game 2, except he'll go back to Clint Barmes at short after giving Jordy Mercer a start on Friday. Mercer was 1-for-4 with a single and a walk, and Barmes is 1-for-6 so far in the postseason.
Neil Walker went hitless in nine at-bats in Games 1 and 2 at Busch Stadium, and hopes that coming home will get him going. He hit .295 at PNC Park this season, 88 points higher than his .207 road clip.
1. Starling Marte, LF
2. Walker, 2B
3. McCutchen, CF
4. Morneau, 1B
5. Marlon Byrd, RF
6. Pedro Alvarez, 3B
7. Russell Martin, C
8. Barmes, SS
9. Liriano, SP
Manny Randhawa is an associate reporter for MLB.com. This story was not subject to the approval of Major League Baseball or its clubs.