Bucs aided by big contributions from young arms
Bucs aided by big contributions from young arms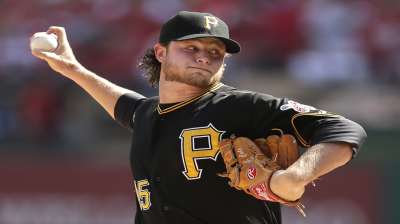 PITTSBURGH -- In 2007, when his Rockies made that fabulous late-season run all the way into the World Series, Clint Hurdle got over a manager's typical distrust of young, untested pitchers. As that Colorado team won 14 of its last 15 games, major roles were played by Ubaldo Jimenez and Franklin Morales, neither of whom checked in until the season's second half.
That reassuring experience influenced Hurdle, and consequently has had a tremendous impact on the 2013 Pirates. Rookies were featured in the bullpen overhaul while helping the rotation withstand some major casualties in the regular season, and they continue to play a large role in the postseason.
Relievers Bryan Morris and Justin Wilson combined for 113 appearances, with 21 holds between them. Gerrit Cole has 11 wins, including in Game 2 of the National League Division Series on Friday in St. Louis. Jeff Locke, who was not officially a rookie but fell one inning shy of that designation, carried the club in the first half through the loss of another lefty, veteran Wandy Rodriguez.
In Hurdle's view, the Pirates just shared the Major League-wide proliferation of high-ceiling pitching prospects, which has been on the rise for years.
"For me, we're in the sixth year of it," Hurdle said. "In Colorado [in 2007] ... Morales and Jimenez were integral parts of that rotation, getting us in the playoffs and World Series. I think this part of the game has continued to have a little more efficient HOV lane as far as getting players to the big leagues. Other teams have them just as well."
The Bucs' NLDS opponents certainly do. The Cardinals enlisted 10 rookie pitchers this season, including 15-game winner Shelby Miller and Game 4 starter Michael Wacha.
"We've seen some position players make the transition [to the Majors] as well, but we've never before seen the volume of pitchers you're seeing now," Hurdle said. "It's been as strong as it's been in a long time."
Tom Singer is a reporter for MLB.com and writes an MLBlog Change for a Nickel. He can also be found on Twitter @Tom_Singer. This story was not subject to the approval of Major League Baseball or its clubs.