Garcia locked in to start Game 4 vs. Dodgers
Garcia locked in to start Game 4 vs. Dodgers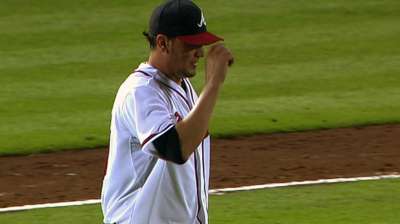 LOS ANGELES -- Manager Fredi Gonzalez's answer still hasn't changed. Win or lose in Game 3 of the National League Division Series on Sunday at 8 p.m. ET on TBS, veteran right-hander Freddy Garcia will get the ball for the Braves in Game 4 on Monday night at Dodger Stadium.
When asked if he's certain that nothing will change his mind, Gonzalez raised one hand in the air as if to swear an oath and said, "yes."
"You sounded like a lawyer there," the Braves manager joked.
With the Braves and Dodgers currently tied at one game apiece in the best-of-five series, Garcia will get the ball on Monday with either a chance to clinch or a chance to stave off elimination.
It's an exciting prospect for Garcia, who spent much of the season struggling in the Baltimore organization. Since he was acquired by the Braves in August, Garcia has posted an ERA of 1.65 in six outings, and he has notched a WHIP of just over one.
"It's an opportunity to win a big game," Garcia said. "It's nice. It's huge for me. I've just got to be me, don't shake anything, and pitch the way I pitch."
Dodgers manager Don Mattingly, on the other hand, didn't fully commit, but he said he's still planning on employing No. 4 starter Ricky Nolasco in Game 4. (Though he didn't swear any oaths.) The other option would be Cy Young Award favorite Clayton Kershaw, and when asked in which game he'd like to face the Dodgers' ace, Gonzalez's response was simple:
"Neither of them," he said.
Mark Bowman is a reporter for MLB.com. AJ Cassavell is a reporter for MLB.com. Follow him on Twitter @ajcassavell. This story was not subject to the approval of Major League Baseball or its clubs.