Vogt of confidence: Walk-off A's even ALDS
Vogt of confidence: Walk-off A's even ALDS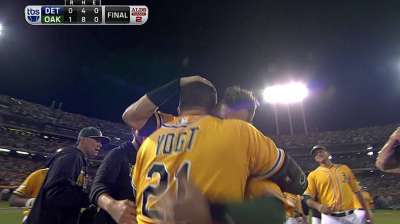 OAKLAND -- A pair of rookies had already just tasted the sweetest moments of their young careers, but this is Oakland, and there was still pie to be had.
Except Josh Reddick was only armed with one on this night. So he went for Stephen Vogt, less than a minute after the rookie had celebrated his first postseason hit in walk-off fashion, then found the kid who made it all possible.
"Sonny got the leftovers," said Reddick, smiling.
It was Sonny Gray who took over The Justin Verlander Show, and the A's took the momentum from the Tigers in evening up this best-of-five American League Division Series at one game apiece with a 1-0 walk-off victory that was every bit as thrilling as it was critical at the Coliseum on Saturday evening.
Vogt, a quiet April trade acquisition who started the year in Triple-A, provided the dramatics with a bases-loaded, game-winning hit in the bottom of the ninth off righty reliever Rick Porcello, erasing memories of all the A's missed opportunities that came and went in the eight innings prior.
Vogt just so happened to be front and center for one of them, fouling off seven pitches in a 10-pitch at-bat against Verlander that culminated in a strikeout to end the seventh with two men stranded on base.
"I honestly thought he was going to come through after fouling off such tough pitches," said Reddick. "After watching that, you knew he wanted to get it done there in the ninth."
"It's the moment that every kid dreams of," said Vogt. "I remember playing in my front yard with nobody else, imagining hitting a walk-off hit in a playoff game. It's everything you could dream of and more."
Yoenis Cespedes and Seth Smith led off the ninth with consecutive singles against Al Alburquerque, and the Tigers opted to intentionally walk Reddick to bring Vogt to the plate against Porcello. The A's were 0-for-7 with runners in scoring position leading up to the soft liner that found its way to left field, all at once ensuring a needed win and rewarding a memorable performance by Gray.
Verlander was part dominant, part gritty, but so was Gray. Making his first postseason start, Gray impressed not only with the stuff that made him a the A's first-round Draft pick in 2011, but also with an unflappable presence that proved essential as he performed on the biggest stage of his career.
And all he did was pitch the game of his life. Turns out this kid is all right.
"He pitched like Josh Beckett and Curt Schilling," said Detroit's Miguel Cabrera. "Man, he was good. He was great today."
Gray, just 23 and the sixth rookie in Oakland history to start a postseason game, fanned nine over eight special innings, bringing out the heat, a few Pedro Martinez-esque sliders and, of course, his bread-and-butter curveball, which rivaled even Verlander's.
Gray allowed four hits, with only one leaving the infield, and walked two in the affair, which marked just the 11th start of his big league career. Verlander, meanwhile, got through seven innings on 117 pitches.
"There's no time to mess around with that lineup, and Sonny was awesome," said Grant Balfour, who was credited with the win with a scoreless ninth. "The 'W' goes to Sonny tonight. He was the man, the MVP, whatever you want to call him. ... He couldn't have done any better."
Now, rather than tuck away two losses in a carry-on bag to Detroit overnight and face elimination come Monday, the A's can sleep soundly on their red-eye knowing the series is now just as much theirs for the taking.
They'll have a fresh arm in Jarrod Parker in tow, too, with the right-hander scheduled to take the mound on Monday against AL ERA leader Anibal Sanchez for Game 3 in Motown, 10 a.m. PT, MLB Network.
Parker will have plenty inspiration to draw from Gray, who wasn't shaken in the least, even at times he maybe should've been, like when Torii Hunter tried to play the intimidation card.
Hunter didn't much like the high, inside fastball Gray greeted him with in the third inning, so he pointed at the youngster to a background of boos. Just as the crowd woke up, so did Gray, and he struck out Hunter, then Cabrera. Before the gesture, Gray hadn't hit 96 mph. He did on four of his next eight pitches.
"Torii's been one of my favorite players growing up," said Gray. "I remember my first Spring Training facing him when he was with the Angels, he had a line drive up the middle and almost took my head off. He is known as a really great guy and it got me fired up a little bit. It did. After that, I had a little extra adrenaline, I really did."
"His composure is excitement, really," said manager Bob Melvin. "He loves to pitch. He's not one of those guys who is stone-faced out there and you can't tell his emotions. He's into every pitch and he really enjoys it."
But perhaps the biggest play of the night, outside of Vogt's game-winning hit, came in the fifth, when Austin Jackson stepped to the plate with runners at the corners and just one out. Gray fell behind on three straight balls, then came back with just as many strikes, all fastballs. Jackson swung through the last one, and Vogt hurried it to second base just in time for the classic strike-em-out, throw-em-out double play to end the threat.
Vogt and Gray were in sync all night, giving the ending an all too perfect storybook flavor.
"We knew we wanted to come through for him," said Vogt. "That was the talk. 'Let's get him a win. Let's get him a win.'"
So he did, giving the A's their ninth walk-off victory of the year, after they tallied 15 total in 2012, including one in the fourth game of last year's ALDS.
Then came the pie.
"I've never been so excited," Vogt said. "I totally forgot about the pie, to be honest. I don't know. I think I was still blacked out I think. They were nice. They did it gentle. They could've done it a lot harder than that, so I appreciate them going gentle."
Jane Lee is a reporter for MLB.com. Read her blog, Major Lee-ague, and follow her on Twitter @JaneMLB. This story was not subject to the approval of Major League Baseball or its clubs.