Rays in 0-2 hole after pitching, defense come up short
Rays in 0-2 hole after pitching, defense come up short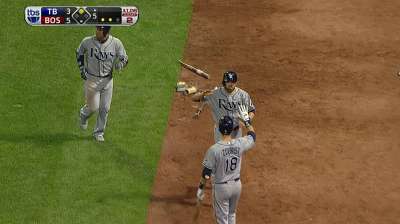 BOSTON -- Nineteen runs surrendered, a pair of errors and several other blunders in the field -- not exactly the stuff that a team that lives by pitching and defense can survive.
On Saturday night the Rays' hopes to advance in the postseason were dealt a serious blow, when the Red Sox conducted a beatdown of their American League East rivals for a second consecutive night in a 7-4 win at Fenway Park in Game 2 of the AL Division Series.
This loss followed Friday's 12-2 dismantling.
Tampa Bay is now 0-2 and one game from elimination in the best-of-five series as it moves to St. Petersburg for Game 3 to be played on Monday at Tropicana Field at 6 p.m. ET on TBS.
That will be yet another do-or-die affair for the Rays, who survived three successive elimination games in Toronto, Texas and Cleveland over the past week.
Thus the situation, although dire, is not foreign.
"We just went through a week of [having our] backs to the wall, so it's nothing new to us," manager Joe Maddon said. "It's going to be difficult. There's no question it's going to be difficult."
The past two days have been uncharacteristic -- and troubling -- for Tampa Bay, which is built on pitching and defense. But neither has been a strong suit thus far.
David Price hoped to give the club a spark after Matt Moore allowed seven earned runs in 4 1/3 innings on Friday. But Price did not deliver, allowing seven earned runs in seven-plus innings to take the loss, and the Rays continued to struggle in the field, committing two errors following a Friday night filled with fielding miscues.
Price's farewell came in the eighth after David Ortiz hit his second home run of the game, which he stood and watched, ostensibly to observe whether the ball was fair or foul as it arched high over the foul pole in right.
"He knows how I've pitched him the last year and a half, probably two years," Price said. "He steps in the bucket and he hits a homer, and he stares at it to see if it's fair or foul -- I'm sure that's what he'd say. But as soon as he hit it and I saw it, I knew it was fair. Run."
Maddon thinks Price was "pretty good" despite his final line.
"He had one moment there where he was missing fastball up and away to somebody, and then he did definitely miss location there on Ortiz at the end with that home run," Maddon said. "The first home run was a cutter down the middle. But [he had] overall fastball command, and he kept getting better."
Nevertheless, Price came up short while hunting for his first win in a postseason start; he did earn a win in relief in Game 2 of the 2008 AL Championship Series. He is now 0-4 with a 5.81 ERA in four career postseason starts.
The Red Sox had him figured out from the beginning, scoring two runs in the first inning, two in the third, and single runs in the fourth, fifth and eighth.
"Absolutely, I'm disappointed," Price said. "I don't know what my stat line was, but I know I gave up quite a few earned runs. It stinks, especially in the postseason, when you want to go out there and pitch your best.
"You're as good as your last game, and tonight I wasn't very good. Honestly, I thought I was pretty good tonight, but that team just beat me. That's a very good team, and I've said that for quite a while now."
Most of the damage was inflicted by the top of the Red Sox order. Boston's first four hitters -- Jacoby Ellsbury, Shane Victorino, Dustin Pedroia and Ortiz -- went a combined 7-for-15, scoring five runs and driving home six while hitting two doubles and two home runs.
"[Price's] stuff is so good and he attacks the zone so much, we kind of went away from our normal approach to try to work the count, get the starting pitcher out of the game," Pedroia said. "We had to hit. That was basically it.
"We had to swing the bat against them, and guys grinded out at-bats. It was nice."
Red Sox starter John Lackey held Rays hitters to four runs on seven hits in 5 1/3 innings to pick up the win and move to 4-4 with a 3.35 ERA in 15 career postseason games.
"I think he just made pitches when he needed to," Evan Longoria said. "We got him on the ropes a couple of times, but he made those big pitches and was able to get out of the jams. It's frustrating, and you want to come through in those situations, but at the same time, you've got to tip your hat to him."
Craig Breslow, Junichi Tazawa and Koji Uehara picked up the final 3 2/3 innings to preserve the win.
"Each guy that came to the mound did a great job," Red Sox manager John Farrell said.
Rays hitters managed just eight hits and grounded into three double plays.
Now they head home with the hopes of extending their season.
"We've been there before," Longoria said. "Just kind of drawing from those experiences and really just understanding that we're one of the few teams still playing baseball. We've got to enjoy those moments and be happy that we're going home."
Bill Chastain is a reporter for MLB.com. This story was not subject to the approval of Major League Baseball or its clubs.