Archer learning the ropes of relief
Archer learning the ropes of relief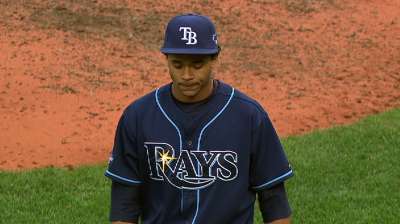 BOSTON -- Rookie right-hander Chris Archer is spending the American League Division Series in the bullpen, and he saw action in Game 1's 12-2 loss, allowing no runs on one hit and fanning two in 1 1/3 innings.
Archer went 9-7 with a 3.22 ERA in 23 starts this season, so bullpen duty is new for him, but he's learning the ropes about what's required of a reliever. He also spent time in the bullpen for the tiebreaker against Texas and the Wild Card Game against Cleveland.
Archer noted that he's not so much picking the brains of the other relievers as he is simply watching.
"I'm just a very perceptive and observant person to begin with," Archer said. "I know everybody's routine whether you're a starter, reliever or position player. So I've just taken what I've observed over the last three months of being here from a reliever's perspective.
"And then, whenever I was in the bullpen in Texas and in Cleveland, I watched. Like I watched how [closer] Fernando [Rodney] gets ready. How [Joel] Peralta gets ready -- [Brandon] Gomes, [Alex] Torres, everybody. I watched. And Cesar Ramos has been pretty helpful as well."
Ramos has served mostly as a reliever, but he has made some starts as well.
"So he knows," Archer said. "He noticed how I warmed up yesterday and came up to me after the game and gave me a few pointers. Like what the terminology means, like, 'Hey, you have the next batter.' [But] only if the batter before him doesn't get out, that type of thing. In my mind, 'Hey, you have this batter, so bullets are ready.' And I don't actually have the next batter. It really is circumstantial. Whatever the situation dictates is when you'll go in."
When asked who rules the bullpen, he replied, "It's not like that, man."
"Everybody knows their role, and everybody is completely comfortable," he explained. "It's not like this person is lower. Everybody is communicating. There's good camaraderie down there, just like the starter and the other four starters in the dugout."
Bill Chastain and Adam Berry are reporters for MLB.com. This story was not subject to the approval of Major League Baseball or its clubs.