Maddon dismisses talk of Sox running up the score
Maddon dismisses talk of Sox running up the score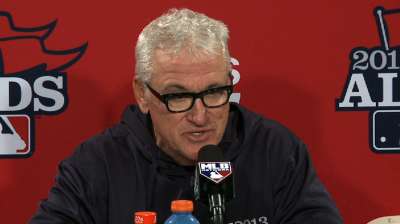 BOSTON -- Although some fans may have taken issue with Jacoby Ellsbury stealing second base with the Red Sox up six runs in the eighth inning of Friday's 12-2 loss, manager Joe Maddon has "zero problem with it" and doesn't think the Red Sox were trying to run up the score.
"If they did, that was our fault. Entirely our fault. If you get embarrassed in the game, I blame it on me, us," Maddon said. "The accountability lies with the Rays, not the Red Sox doing their job. The object of the game is to score runs, and that's what they were doing."
Ellsbury singled off reliever Jamey Wright to lead off the eighth, then swiped second with Shane Victorino at the plate. Red Sox manager John Farrell told reporters on Saturday that he didn't think anything of it, if only because the Rays were also trying to hold Boston's baserunners despite the lopsided score.
Maddon has made it clear that he's not always in agreement with all of baseball's unwritten rules. This time is no different.
"I have no problem with what they did at all. I've never been a proponent of that method of thinking," he said before Game 2. "I don't think we were being embarrassed. If we were being embarrassed, that would be our fault, not theirs.
"I've always felt it's the team that's getting beat up -- it's their fault. It's not the team that's trying to score. It can't be their fault. ... I really think there's a lot of archaic baseball stuff that needs to be ... not necessarily readdressed, but thought out a little bit better. People that get hung up on stuff like that, that's your hangups, not mine."
Bill Chastain and Adam Berry are reporters for MLB.com. This story was not subject to the approval of Major League Baseball or its clubs.