A's puzzled by Tigers' Scherzer in Game 1
A's puzzled by Tigers' Scherzer in Game 1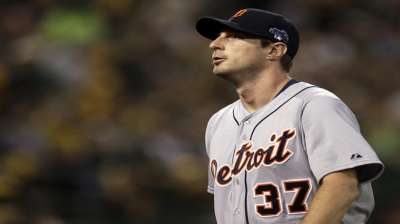 OAKLAND -- Of all the habits the A's picked up in the second half of the season, beating some of the game's best pitchers proved to be the most momentous. Watching 40-year-old Bartolo Colon beat everyone was a close second.
That's why Oakland's 3-2 loss to the Tigers in the opener of a best-of-five American League Division Series at the Coliseum on Friday evening went against nearly everything the A's had done to get to this point.
The same team that averaged more than six runs in its final month of play struck out 16 times, a new A's record in postseason play, and Colon's rare early woes, all under the scrutiny of October's magnifying glass, were too much to overcome.
"I felt like we were a little rusty in some areas, especially myself, having a couple days off," said Josh Donaldson, who fanned twice. "We're going to come back here tomorrow with a positive attitude ready to win the game."
The A's find themselves in a familiar position, having also dropped Game 1 to the Tigers in an eventual ALDS loss last year, but this one was perhaps even more critical.
The A's believed a veteran like Colon, a weapon they didn't have at this time last year, could change their Game 1 fortunes. Now they must turn to a rookie in Sonny Gray to try to even the series on Saturday against another pretty good pitcher: Justin Verlander, who ended the A's season last year.
Game 2 airs at 6 p.m. PT on TBS.
"We just have to forget about this as fast as we can," said Coco Crisp. "That's been working for us all year. It's unfortunate, because we almost pulled it off, but we let this go and start worrying about Mr. Verlander."
"It doesn't get any easier with Verlander on the mound tomorrow," added Josh Reddick. "We know it's a tough task to beat those guys back-to-back, but we can't dwell on this."
Yoenis Cespedes tried to salvage the opener with a monster performance, despite playing with a bum right shoulder, but he couldn't do it on his own. The Cuban slugger was responsible for two of the A's three hits off an absolutely dominant Max Scherzer, the first a triple in the second inning and the second a two-run homer in the seventh that ignited a once deflated crowd.
But the 48,401 in attendance, the largest baseball crowd the Coliseum has seen since 2004, were silenced by night's end, as a potential momentum shift granted by Cespedes' first postseason long ball amounted to little else, even after Scherzer's departure.
Detroit's 21-game winner, a favorite to take home the AL Cy Young Award, had a three-run lead before he even stepped on the mound, but he also did plenty work on his own against a team that tagged him for five runs on eight hits in five innings just five weeks ago.
Take away Cespedes, and Scherzer allowed only one hit -- an infield single to Brandon Moss in advance of the homer -- and two walks, both to Crisp, in seven innings. Scherzer had tallied seven swings and misses by the end of the second inning and finished with 11 K's.
"We were able to jump on some of his mistakes the last night, and he didn't make any mistakes this time," said Stephen Vogt. "He was putting his fastball on the corners. He wasn't missing over the middle of the plate. His fastball-changeup fastball is one of the best in baseball. Good pitching will always beat good hitting."
Scherzer's teammates, meanwhile, were in attack mode from the start, spraying Colon's fastballs every which way in a three-run first inning. Oakland's righty, who had given up three runs total in his final three regular-season starts, spotted a first-pitch strike to leadoff man Austin Jackson. But his next four pitches were all the Tigers needed to take control of Game 1.
Jackson lined a double to right field, and the normally unflappable Colon proceeded to nearly hit Torii Hunter, before he actually did with his next pitch -- this from a hurler who had not hit a single batter in 190 1/3 innings this year.
Colon still had a chance to get through the frame unscathed, but a miracle was in order, with Miguel Cabrera stepping to the plate and Prince Fielder waiting on deck. Cabrera jumped on the first pitch, driving a single up the middle to bring home Jackson and allow Hunter to reach third.
Hunter's hustle proved significant, as the outfielder scored on Fielder's ensuing double-play ball. Not that it mattered, since Victor Martinez and Alex Avila extended the early rally with a double and then a single for a three-run lead they would never give back.
First baseman Daric Barton, who typically showcases outstanding range, initially appeared to have a handle on Avila's ball. Ditto Omar Infante's sixth-inning single. But both went passed him, even though "he does usually get to those," said manager Bob Melvin.
"Barton tried to get to the ball and almost made a good play," said Colon, "but you have to give credit to Avila."
Colon, who became the oldest pitcher in Oakland history to start a postseason game, threw nothing but fastballs to his first 10 batters, before greeting Hunter with a changeup to christen the third inning. He soon showed his other cards, too, flashing his slider some in six innings of work.
He found his groove, but Scherzer kept his, and Colon remained winless against the Tigers since April 13, 2003.
"We're still in this thing," said Vogt. "We still have a long way to go, but we've got some good arms throwing in this series against their good arms. This is still going to be a great series."
Jane Lee is a reporter for MLB.com. Read her blog, Major Lee-ague, and follow her on Twitter @JaneMLB. This story was not subject to the approval of Major League Baseball or its clubs.