Ethier improving, but still unlikely to play in field
Ethier improving, but still unlikely to play in field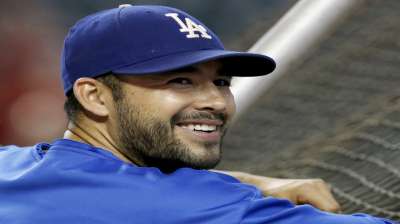 ATLANTA -- Dodgers manager Don Mattingly said Andre Ethier's ankle has steadily improved to the point that he would let Ethier run "station to station" in certain game situations.
However, Mattingly said he still is "resigned" to Ethier being a bench player and not an outfielder during the National League Division Series. If it turns out to be more than that, Mattingly said, it would be "a nice surprise."
Ethier grounded out as a pinch-hitter in the eighth inning during the Dodgers' 6-1 victory over the Braves in Game 1 on Thursday.
Mattingly also said he will not move Yasiel Puig out of right field.
"That would be moving too many people," Mattingly said.
If he needs to start someone other than Skip Schumaker in center, it will be Scott Van Slyke, primarily a corner outfielder but one Mattingly feels reads fly balls well enough to compensate for a lack of running speed.
Van Slyke said he learned to turn and go after fly balls doing drills with his father, former Gold Glove outfielder Andy Van Slyke.
Mattingly said he intends to stick with A.J. Ellis behind the plate throughout the series and not platoon with Tim Federowicz, as was done most of the final six weeks of the season.
After Game 1, shortstop Hanley Ramirez addressed questions about not running out a grounder.
"Everybody knows I'm not 100 percent," Ramirez said, referring to his sciatic condition.
Mattingly reiterated that while Ramirez has been instructed to take care of his body and use common sense, the extra effort Ramirez used to make a diving stop on defense "is there if he needs it."
Mattingly also said he didn't believe Braves starter Kris Medlen hit Puig with a pitch intentionally.
"I don't think it was on purpose," he said. "It didn't seem the right time. We can't afford to have guys thrown out of games. We will protect our own, that's for sure, but I don't feel like it was."
Despite joining the club in June, Puig has been hit by pitches a team-high 12 times.
Ken Gurnick is a reporter for MLB.com. This story was not subject to the approval of Major League Baseball or its clubs.