Brave new series: Minor, Atlanta even NLDS
Brave new series: Minor, Atlanta even NLDS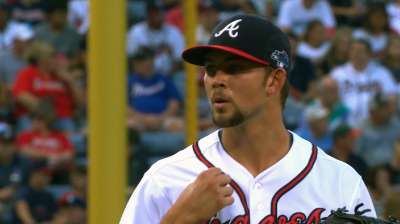 ATLANTA -- After mistakes and Clayton Kershaw turned things the Dodgers' way in the opener of the National League Division Series, the Braves faced the same kind of doubts on Friday night that surrounded them when Tim Hudson and Jason Heyward sustained significant injuries during the regular season.
But showing the same resilient spirit they showed throughout the year, the Braves recorded timely hits and routinely quieted threats on the way to claiming a much-needed 4-3 win over the Dodgers in Game 2 of the NLDS.
"I don't think anybody came into this game thinking we were going to lose again," Mike Minor said. "We all felt good going into this game. We were relaxed and had a good vibe in the clubhouse prior to the game, and now we're feeling really good after this win."
With Minor producing one of his finest outings in his first career postseason start and Heyward recording the most significant of the two-out hits that accounted for all of their runs, the Braves evened this best-of-five series, which will now shift to Los Angeles for Games 3 and 4, in which the Dodgers are scheduled to start Hyun-Jin Ryu and Ricky Nolasco.
While Ryu and Nolasco are certainly capable of providing a challenge, it is safe to say the Braves are pleased to have split these first two games against Kershaw and Zack Greinke.
"You're facing Greinke after facing Kershaw last night, and it was a big win," Braves manager Fredi Gonzalez said. "The guys stepped up and they played tremendous defense and got some add-on runs, and we really, really pitched well."
Minor set the tone as he allowed just one run despite allowing eight hits in 6 1/3 innings. But after he exited to a well-deserved rousing ovation from the sold-out crowd, his effort was preserved by Luis Avilan, who induced a key double play to end the seventh inning, and Craig Kimbrel, who notched the first four-out save by a Braves closer in a postseason game since John Smoltz in Game 1 of the 2001 NLDS.
Avilan entered after Luis Ayala missed the bag while covering first base on Michael Young's one-out grounder in the seventh. With runners on the corners and the Braves leading by one run, Avilan got the speedy Carl Crawford to hit a comebacker that resulted in an inning-ending double play.
This twin killing, which was aided by shortstop Andrelton Simmons' rocket arm, proved both timely and rare. Crawford has grounded into the third-fewest double plays in the Major Leagues since the start of the 2009 season.
"That was just incredible," said Braves first baseman Freddie Freeman, who along with catcher Brian McCann was yelling for Avilan to throw to the plate, instead of second base. "It was a great play by [Avilan] and a great turn by Andrelton. Luckily, I caught the ball. It kind of rattled around my glove. I was like, 'Oh my God.' That would have been on the all-time Not Top 10 right there."
Heyward added to the significance of the seventh inning when he provided what proved to be two necessary insurance runs with a two-out single off Paco Rodriguez. Heyward's decisive single up the middle came after the Dodgers opted to intentionally walk pinch-hitter Reed Johnson to load the bases and set up a lefty-lefty matchup.
Further proving he has no lingering effects since his jaw was fractured by Mets left-hander Jon Niese's fastball on Aug. 21, Heyward laced his clutch single back up the middle past Rodriguez, who limited left-handed hitters to a .131 (13-for-99) batting average this year.
"Every night in the postseason is a must-win game for us," Heyward said. "You don't want to ever think it's OK to lose. That's been our attitude all year."
Heyward's single proved significant when David Carpenter allowed Hanley Ramirez to cut Los Angeles' deficit to one run with his two-run homer in the eighth. Carpenter struck out the next two batters he faced before giving way to Kimbrel, who began and ended the ninth inning with a strikeout.
In between, Kimbrel issued a pair of walks, including one that led to pinch-runner Dee Gordon being called out attempting to steal second base for the second out. Backup catcher Gerald Laird, who entered in the eighth inning after McCann was replaced by a pinch-runner, made a strong throw to Simmons, who blocked Gordon's path by sticking his knee in front of the bag.
"[Gordon] looks safe from our point of view, but I think we're that far away," Dodgers manager Don Mattingly said. "Just looks like Dee gets there before the ball gets there. And I know our replays feel like they're fairly clear, but I'm sure other people see it another way."
All of the late-inning contributions preserved the stoic effort made by Minor, who allowed a run in the first inning and then proved he is more than capable of pitching in big games. The 25-year-old southpaw induced double plays after surrendering leadoff singles in the second and third innings. He also notched two big strikeouts after Ramirez doubled with one out in the sixth.
"I think I was a lot more composed than what I thought initially when I was thinking about it all day today," Minor said. "I had a lot of anxiety. But when I went out there and I was warming up, it all felt the same."
Greinke allowed just four hits over six innings, but two of them proved costly. Simmons doubled off the right-center-field wall to tie the game with two outs in the second inning. Freeman's leadoff double in the fourth provided an opportunity for Chris Johnson to give Atlanta its first lead of the series with a two-out single through the infield's left side.
"I think that was an overall good team win," Freeman said. "That is our team this year. When we get down, we come back."
Mark Bowman is a reporter for MLB.com. This story was not subject to the approval of Major League Baseball or its clubs.