Pujols files suit against radio host for PED comments
Pujols files suit against radio host for PED comments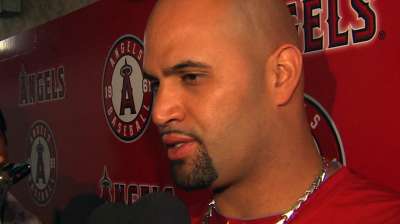 ANAHEIM -- Albert Pujols wasn't bluffing when he threatened to sue former All-Star Jack Clark for calling him "a juicer" on St. Louis airwaves nearly two months ago. On Friday in St. Louis County Circuit Court, Pujols' legal team officially filed a defamation lawsuit against Clark, as first reported by the St. Louis Post-Dispatch.
In the suit, Pujols asks for unspecified damages that would be donated to charity and a determination that Clark's statements are false. The petition calls Clark's on-air comments "malicious, reckless and outrageous falsehoods," and says the Angels first baseman's character and reputation are "impeccable and beyond reproach, while calling Clark "a struggling radio talk show host."
On Aug. 2, while hosting the now-defunct "The King and the Ripper Show" on WGNU 920 AM in St. Louis, Clark said he knew "for a fact" that Pujols used steroids because Pujols' former trainer and junior college coach, Chris Mihlfeld, told the host when the two were together on the Dodgers in 2000 (Clark as hitting coach, Mihlfeld as trainer) that he "shot [Pujols] up."
Mihlfeld denied those allegations in a written statement a week later, saying he would "bet my life" that Pujols would "never use illegal drugs in any way." Shortly thereafter, Pujols issued his own statement, calling Clark's comments "irresponsible and reckless" and saying he's "going to send a message that you cannot act in a reckless manner, like they have, and get away with it."
Pujols' lawsuit does not name the radio station as a defendant. Clark and his co-host, Kevin Slaten, were dismissed shortly after Pujols' statement -- seven shows into their tenure -- and the station has issued a handful of apologies since, most recently on air on Thursday.
The lawsuit says Clark's comments are lies that have damaged Pujols' reputation, causing him humiliation, mental anguish and anxiety. It also adds that his show's cancellation isn't enough, saying: "Cutting Clark off at the microphone will not undo the harm to Pujols' reputation caused by Clark."
On Aug. 10, Clark said via his Twitter account that he stands by what he said.
"My lawyers have told me that the upcoming legal fight will not be an easy one, and that in cases like this, even a liar can sometimes be protected under the law," Pujols said in a statement released through his agent at MVP Sports Group. "But as a man of faith, I have never shied away from standing up for the truth, and I believe that the principles at stake are too important to sit back and do nothing. I believe we are all accountable for the things we do and say, and it was important for me to stand up for what was right, against those who would seek to drag me down to try and build themselves up. I have always believed in the principles of honesty and accountability and will continue to fight for them here."
Alden Gonzalez is a reporter for MLB.com. Read his blog, Gonzo and "The Show", and follow him on Twitter @Alden_Gonzalez. This story was not subject to the approval of Major League Baseball or its clubs.