Cole confounds Cards, sends NLDS back to PNC tied
Cole confounds Cards, sends NLDS back to PNC tied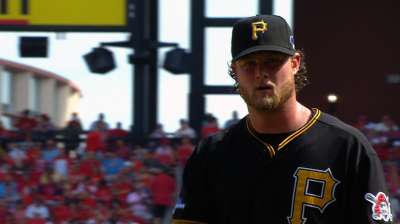 ST. LOUIS -- Wary of putting the burden of extreme expectations on their young players, the Pirates, from manager Clint Hurdle on down, normally downplay early success.
So in the Bucs' careful minds, it doesn't start with Gerrit Cole.
But it certainly does stop with Cole. It has now for seven weeks. The bad vibe, that is, before it becomes ears-hurting cacophony.
Cole brought serenity back to the Pirates' postseason Friday afternoon, firing two-hit ball for six innings in a 7-1 win over the Cardinals that squared the National League Division Series at one game apiece.
"You're down one game," Hurdle said, setting the stage. "You're going against a guy [Lance Lynn] that's won [15] games, and against a hot ballclub [9-1 since Sept. 20]. All of it, you know? And we picked up some momentum when [Cole] hit the mound."
Pedro Alvarez and Starling Marte smacked home runs behind Cole, and Russell Martin added a pair of RBIs, but the centerpiece was the rookie right-hander who walked one, struck out five and raised a nation's eyebrows by delivering his 75th of 86 total pitches at 100 mph to Carlos Beltran.
"When he had to reach back for something extra -- it was there," shortstop Jordy Mercer said. "It was fun to watch. We're just riding his coattails. He showed up today."
"Showed up" may seem modest ... but between the lines, it's the highest form of peer flattery.
It was a masterful, impressive and critically clutch performance following Pittsburgh's deflating 9-1 defeat in Thursday's series opener. It was also pure Cole: Including his regular-season stops, the Cole Train is now 7-1 following Bucs defeats, with an ERA of 2.37.
"Gerrit Cole was absolutely outstanding," Neil Walker said. "Unbelievable, spotting down in the zone with his fastball and getting ahead with sliders -- using it early, middle, late [in the count]. That's how he's been successful the last several outings."
From despair to delight in 20 short hours, the Pirates now take the NLDS back to bedlam's address, PNC Park. The Jolly Roger marks the spot, and the series lead will be up for grabs Sunday at 4:30 p.m. ET on TBS, with Monday's Game 4 also set for PNC Park.
"We're very confident. We'll have another blackout going," said Marlon Byrd, referring to the newest Pittsburgh tradition, filling the house with black-garbed fans. "We got the fans on our side. It won't get any easier -- that's a great team, with great pitching. At home, we've got to keep our focus."
In all seriousness, it will not be surprising to see the Cards take the field on Sunday with earplugs; teams in loud environments have done so in the past, and PNC Park earned an instant reputation for being a "din" of inequity in Tuesday night's Wild Card Game against Cincinnati.
"We know playing at home is more beneficial to us," Walker acknowledged, "but we also know St. Louis won't be rattled. They've played in a lot of hostile environments."
Cardinals manager Mike Matheny concurred with that.
"If we had a group of guys who'd never been in an atmosphere like that, you'd wonder," Matheny allowed. "So it's a great opportunity for us to go and perform despite what else is going on around us."
Cole did not feature many strikeouts in this game, yet one of his five likely was the afternoon's biggest out. Yadier Molina, the crowd's darling anyway, led off the fifth with a home run that dented the Pirates' early 5-0 lead and whipped 45,999 fans into instant frenzy, fervor that only increased as the count on Jon Jay reached 3-1.
Cole didn't let that wave crest. He came back to fan Jay, those two pitches part of a six-pitch sequence that netted three outs and ended the inning.
"You can feel the energy," Cole said. "We fell behind Jay after Yadier went out, and the crowd was getting up for that."
Cole got up for that even more.
"He basically said, 'Forget you. If you're going to get me, you'll get my best stuff,'" Walker said. "And he attacked and attacked and attacked, and got himself out of the inning. I thought that was huge, a big shutdown."
"He did a good job shutting us down," Jay said. "He's got good stuff. He went out there and pitched a good game. We just have to shift our focus over to the next one. It's a must-win game."
Pittsburgh's first run came in a way St. Louis had not seen before. With Alvarez on second base and two outs in the second, Matheny made the habitual NL move: Intentionally walking the No. 8 hitter (Mercer) to bring up the pitcher.
But that pitcher was Cole, who improved to 4-for-8 with runners in scoring position by driving in his sixth run with a single up the middle.
"It's a lift," Hurdle said of the pitcher driving in his club's first run, "and unfortunately we're kind of getting used to it, because he's done it a couple times this year."
The next two runs came in a way the Cards have seen too often: Alvarez clocked a homer to straightaway center off Lynn with two outs in the third and Justin Morneau aboard with a single.
Alvarez's second homer of this NLDS was also his 11th against the Cardinals since the start of the 2012 season. With Cole on the mound, perhaps it was fated: That homer was the seventh the third baseman has hit in the rookie's starts, driving in 20 runs and batting .333 in those games.
"I must really like him or something," Alvarez said smiling.
Alvarez was also responsible for "chasing" Lynn two innings later. All he did was draw a walk, after Morneau and Byrd had begun the fifth with doubles, to get Matheny to swing open the bullpen gates. Martin promptly greeted Seth Maness with a single to left to deliver Byrd and a 5-0 lead.
"It certainly helped getting on the board early, and keeping our foot on the gas offensively helped out a lot, too," Walker said.
Lynn lasted 4 1/3 innings, yielding seven hits and five runs while walking three and fanning six.
"Five" has always been the 2013 Pirates' true magic number. With at least that many runs, they were 55-9 this season. With Cole on the mound on those occasions, that record was 9-0.
Nevertheless, the Bucs had a couple of add-on runs, on Martin's seventh-inning sacrifice fly and Marte's eighth-inning leadoff homer off Shelby Miller, the sixth of seven Cards pitchers.
Tom Singer is a reporter for MLB.com and writes an MLBlog Change for a Nickel. He can also be found on Twitter @Tom_Singer. This story was not subject to the approval of Major League Baseball or its clubs.