Sox pay tribute to bombing victims, first responders
Sox pay tribute to bombing victims, first responders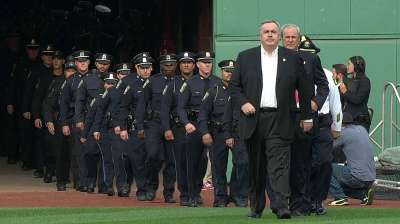 BOSTON -- With "B Strong" freshly manicured into Fenway Park's outfield grass, the Red Sox put on a touching tribute to the victims, heroes and first responders of April's Boston Marathon tragedy prior to Friday's American League Division Series against the Tampa Bay Rays.
The family of victims Krystyl Campbell and father of M.I.T. Police Office Sean Collier were honored on the field with runners, those injured at the marathon and local law enforcement filing out in individual lines from center field.
Members from Cambridge Police Department, Boston Police Department (including police commissioner Ed Davis, superintendent in chief Daniel Linskey, superintendent William Gross), Youth Violence Strike Force, Massachusetts State Police, MIT Police Department, Boston Emergency Medical Services (EMS), MBTA Transit Police Department, Watertown Police Department, FBI and United States Secret Service marched out onto the edge of the infield, forming a circle complete with the Rays and Red Sox, who were standing along their respective dugouts. As each line came through, to loud applause from the crowd, the JumboTron showed images of the attack and the days that followed.
"The city came out of that stronger than it went in," said Mayor Thomas M. Menino, who tossed out the ceremonial first pitch from his perch near the Red Sox dugout. "Why did it happen? We will never know. But this city is a strong city and the first responders, the real heroes are the docs, the nurses who worked afterwards to save many lives."
The cheers only got louder during the last few bars of the national anthem, performed by Massachusetts native Michelle Brooks-Thompson, who was on the television show "The Voice."
"I'll always remember that day, the days after that, the families. It's still in my memory every day," said Menino, whose son, Thomas M. Menino Jr., is a Boston police detective who was working at the Marathon finish line when the bombs exploded.
"This marathon event has really moved this city in ways you never believed it would," the Mayor said.
Brittany Ghiroli is a reporter for MLB.com. Read her blog, Britt's Bird Watch, and follow her on Twitter @britt_ghiroli. This story was not subject to the approval of Major League Baseball or its clubs.